America by Air: Nude Beach in California
Editor's Note:
This article previously appeared in a different format as part of The Atlantic's Notes section, retired in 2021.
But don't get your hopes up, voyeurs: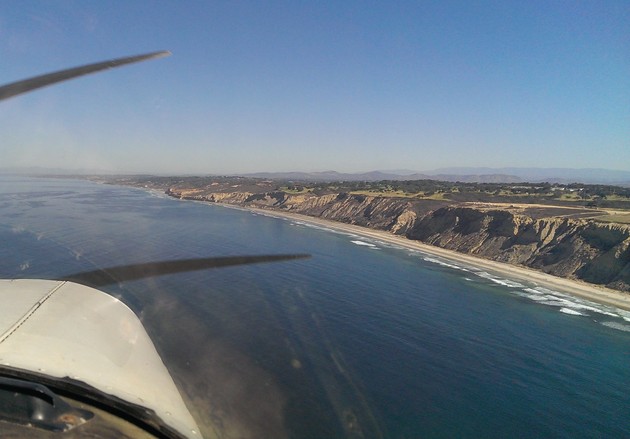 Our reader Evan asked, "Any chance of a repeat, since this series still seems to be going strong?" Yes indeed—please send us your aerial pics even if you've submitted one already. Evan's previous America by Air is here. His current caption:
This photo was taken from a Piper PA-28-161 Warrior just off the coast of San Diego, showing Torrey Pines golf course to the right and Torrey Pines State Park further up the coast. The beach below the golf course, Black's Beach, is informally a nude beach, although the resolution on this shot is nowhere near high enough to require any reader warnings.
The location of this shot is roughly next to the flag for Torrey Pines Golf Course and the glider symbol (marking a "gliderport" for launching hang gliders and parasails to soar along the bluffs) in this map. The dark blue polygons show the Class B airspace, which in this case starts at 1800' for military aircraft departing out of MCAS Miramar and again at 6800' for airliners arriving into Lindbergh Field. On a VFR sightseeing flight on a nice day, pilots can stay below the class B airspace like I do here and use the air-to-air frequency to talk to and help look out for any other aircraft in the area.
But more about the naked part:
Black's Beach in San Diego is the one of the largest nude beaches in the United States and is popular with Southern Californian nudists and naturists. Originally including the current Torrey Pines State Beach, Black's Beach was the first and only public nude beach in the country for several years in the mid-1970s. Because Black's Beach was traditionally recognized as a clothing optional beach, nudity is tolerated for the portion of the beach that is managed by the state park.

Black's Beach was named for the Black family who had a horse farm overlooking the beach. They sold the land, and then it was subdivided into La Jolla Farms lots. The Farms' residents retained the Black family's private road to the beach.
Black's has its own website here, for all you prurient readers out there.