The Recovery of Two Bodies, Lost 16 Years Ago in Tibet
Alpinists preparing an ascent of Shishapangma found the bodies of Alex Lowe and David Bridges who were killed in an avalanche in 1999.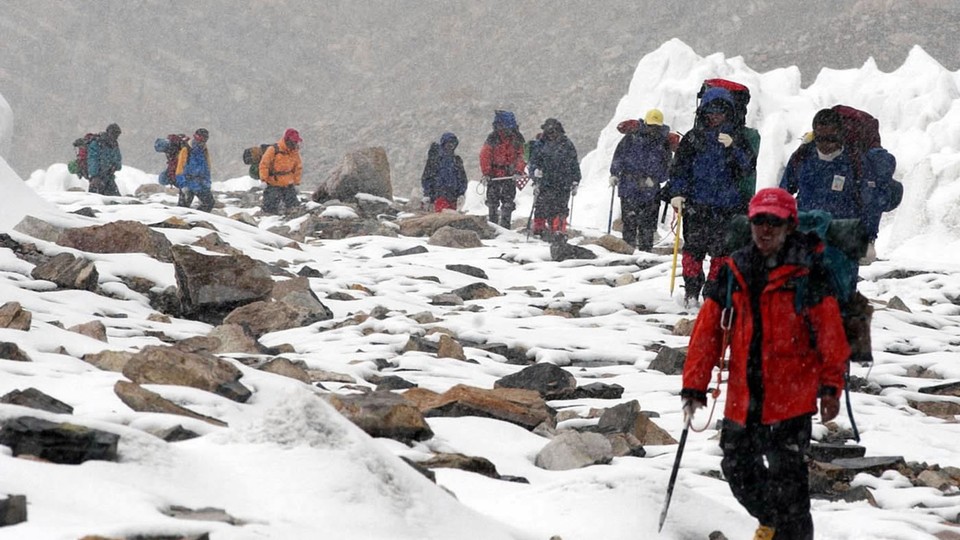 The bodies of two climbers who died in an avalanche on the world's 14th tallest mountain in 1999 have been found frozen beneath thawing ice. Swiss and German alpinists preparing for a climb up Tibet's Shishapangma found the bodies of Alex Lowe and David Bridges last week, and it was confirmed this weekend by Lowe's family, and reported by Outside magazine.
Lowe and Bridges set out October 5, 1999, along with seven others, to climb, then ski down, the Shishapangma mountain peak. They would have been the first Americans to do from such a height, more than 26,000 feet. Conrad Anker is a friend of Lowe's who was with him the day he died (and who's now married to Lowe's former wife). He was in Nepal when he got a call from the two alpinists trying to identify Lowe's body.
In a statement released on the Alex Lowe Charitable Foundation site, Conrad said he took the call around noon:
It was David Goettler and Ueli Steck who were acclimatizing for an ascent on the south face of Shishapangma. They had come across the remains of two climbers still encased in blue ice but beginning to emerge from the glacier. Goettler described the clothing and packs of the climbers to Conrad who concluded that the two were undoubtedly David Bridges and Alex Lowe ...
Conrad said he knew it must be Lowe and Bridges because he remembered they wore blue-and-red North Face backpacks, and yellow Koflach boots, just as the two alpinists had described. Bridges was 29 at the time he died, and Lowe was 40. Both were recognized as great mountaineers. Outside magazine had profiled Lowe and called him "arguably the best climber on the planet."
Of the world's highest mountains, Shishapangma is thought to be one of the easier ascents, but it's known among climbers for its dangerous avalanches. Lowe's family now lives in Bozeman, Montana, and told Outside they'd travel to recover the bodies, then hold a funeral ceremony in a nearby Tibetan town.