Woe Is the Washington Metro
Passengers were forced to evacuate a stuck train Thursday, the latest in a series of glitches for the rail system.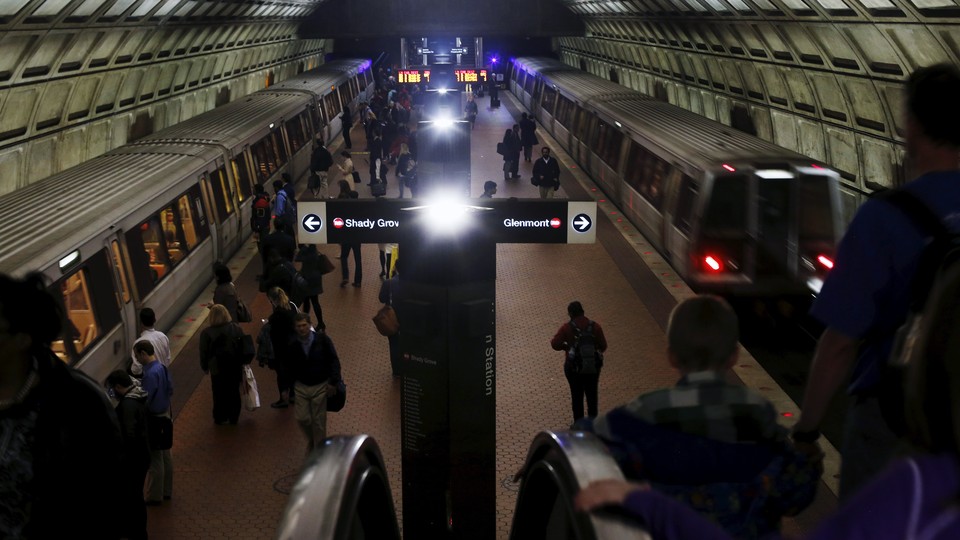 On Wednesday, the chair of the Washington Metro Board of Directors told lawmakers at a congressional hearing that the Rosslyn tunnel—the one that runs under the Potomac River between the District of Columbia and Virginia—poses one of the transit system's biggest problems. The "Rosslyn bottleneck," Jack Evans called it. He asked for federal funding that would go, in part, toward building a new tunnel there.
A day later, a train traveling along this track became stuck outside its next station stop in Rosslyn. The rain lost power, and all passengers aboard were forced to evacuate, according to the ones who had enough phone service to tweet about it.
Metro says more than 100 passengers were stuck for about an hour on a train outside the Rosslyn station in northern Virginia after the train became disabled by a mechanical problem.
Here's a look inside:
Metro spokesman Dan Stessel told the AP the train broke down shortly after 2 p.m., stopping 100 feet from the platform. Between 100 and 200 passengers were stuck for about an hour before they were evacuated, he said. Crews have removed the disabled train and service has resumed.
Thursday's incident is the latest in series of mishaps for Metro this year. Last month, an electrical fire broke out in the tunnel near the McPherson Square station. The fire prompted Metro to make the decision to shut down all operations for a full day—the first time that happened in the transit system's 40-year history. Workers spent the next day conducting safety checks of hundreds of electric cables as regular Metro commuters turned to buses, bikes, and sidewalks to get to their destinations.
Washington's Metro has undergone years of regular service disruptions associated with repair and maintenance work, largely in response to the 2009 crash that killed nine people and injured 90 others when two trains collided. In recent years, electrical fires and derailed or disabled trains have tested the patience of the system's hundreds of thousands of customers.