The Los Angeles Police Shooting Deemed Unjustified
Video footage of a Los Angeles Police Department officer shooting an unarmed homeless man appears to contradict the officer's report.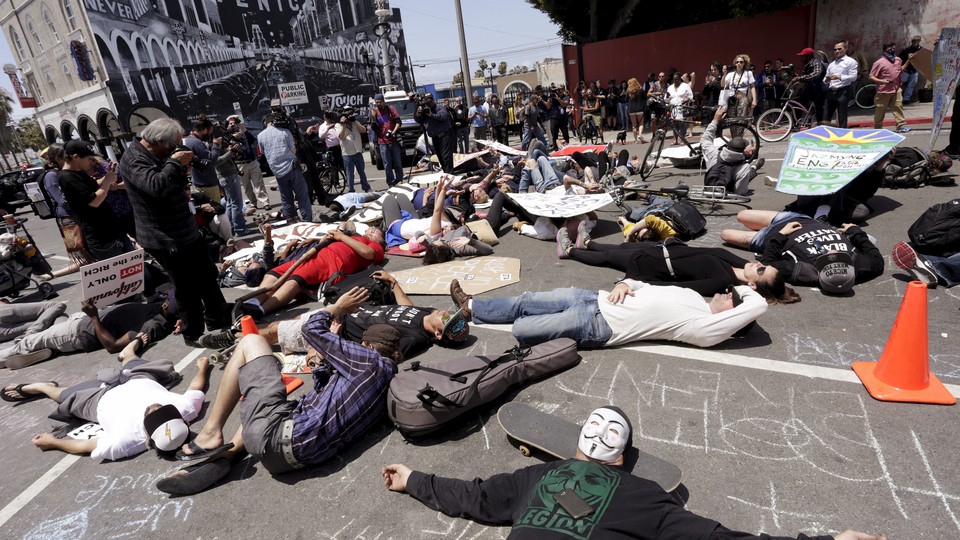 A civilian oversight board ruled on Tuesday that a Los Angeles Police officer was not justified in the fatal shooting of a homeless man near the Venice boardwalk last year.
The Los Angeles Board of Police Commissioners agreed with a report written by Police Chief Charlie Beck that said when officer Clifford Proctor shot Brendon Glenn last May, the choice to use lethal force was "not objectively reasonable," and was out of line with LAPD policy.
The board voted unanimously in a closed session to deem the 2015 shooting unjustified, which is not legally binding, but places pressure on the L.A. County District Attorney to file criminal charges against the officer, a rare occurrence in a department with a history of police abuse. If the district attorney decides to prosecute, Proctor would be the first Los Angeles police officer to be charged in an on-duty shooting in 15 years.
Hours after Glenn died, Beck told reporters he was "very concerned" about the events of the shooting, a comment the local police union has described as unfair to Proctor, and even "selling out" to critics. Police reports say Glenn, who was black, had shouted racial epithets at Proctor, who is also black, and repeatedly ignored the officer's orders. But Beck concluded Glenn's actions did not require the use of deadly force.
Proctor said he shot Glenn twice when the officer saw Glenn reach for his partner's holster. Both officers at the scene wore body cameras, but it was security footage from a nearby bar that seemed to trouble Beck. That footage has not been made public, but from a LAPD report published by The Los Angeles Times, the security video doesn't seem to jibe with Proctor's story. Beck wrote that "at no time during the struggle can Glenn's hand be observed on or near any portion" of the second officer's holster.
On May 5, Proctor and his partner––who has not been publicly identified––responded to a call reporting that an unarmed homeless man and his dog were bothering customers near the busy boardwalk. When they arrived, they found Glenn, a 29-year-old skateboarder often found in Venice's bohemian, drifter scene, in front of a restaurant and seemingly intoxicated.
Glenn shouted at the officers, threatening to release his dog, a pitbull labrador mix, if they approached, according to the chief's report. Proctor responded by saying, "Don't come over here with your dog. I will shoot your dog."
In his report, Beck wrote that the officers should have deescalated the situation because "operational success is based on the ability of the officers to effectively plan and approach each incident in a safe manner." The lack of discussion between the officers about handling Glenn, or calling for backup when Glenn later pushed a bar bouncer at the scene, "was a substantial deviation, without justification, from approved Department tactical training," Beck wrote.
After Glenn and the bouncer began shoving each other, one of the officers grabbed Glenn's arm and Glenn tried to break free, according to the report. The officer grabbed Glenn's hair and forced him to the ground, and both officers dug their knees into Glenn's back. Glenn struggled, reaching his hand around. Proctor said "everything was happening so fast and everybody's hands were flailing around … when I realized I didn't have control …. proper control because he had spun us around and I saw …. his hand on my partners holster, that's when I drew [the gun]."
Proctor said his first shot didn't faze Glenn, so he fired again. After Beck watched security footage, he concluded that another officer with similar training wouldn't agree "there was a substantial risk that the situation may escalate to the point where deadly force may be justified."
The other officer with Proctor would later say Glenn's hand didn't near the holster, and the security footage, based on Beck's report, appears to support this claim.
After Glenn's death, protestors in Venice demanded Proctor be charged for the killing, and the LAPD held a contentious town hall meeting.  In January, Beck recommended charges against the officer.
Video footage of police shootings—from cellphones, body cameras, or security cameras––have highlighted the potential for discrepancies between officers' reports and actual events. And more and more, video evidence unsubstantiated what officers have said was a necessary escalation of force––often lethal force.
Footage of the 2015 shooting of Walter Scott by South Carolina officer Michael Slager. showed Scott was shot running away, and at a greater distance than the officer had reported. The first police reports filed after the death of Eric Garner in 2015 didn't mention that officer Daniel Pantaleo used a chokehold––a move prohibited by the New York Police Department––to take Garner down. But cellphone footage captured by a bystander made it pretty clear Pantaleo had choked Garner. In the case of Laquan McDonald, Chicago officer Jason Van Dyke said the 17-year-old charged police with a knife––a story corroborated by five other officers–––but dash camera footage that a judge ordered released 13 months after the 2014 shooting discredited that story. Van Dyke was charged with murder after the footage was made public.
V. James DeSimone, the lawyer representing Glenn's family in a wrongful-death lawsuits against the city and police chief, told The Los Angeles Times  Tuesday that "simply put, without the video there would most likely be no call for this officer's prosecution or for a finding that this officer was out of policy."