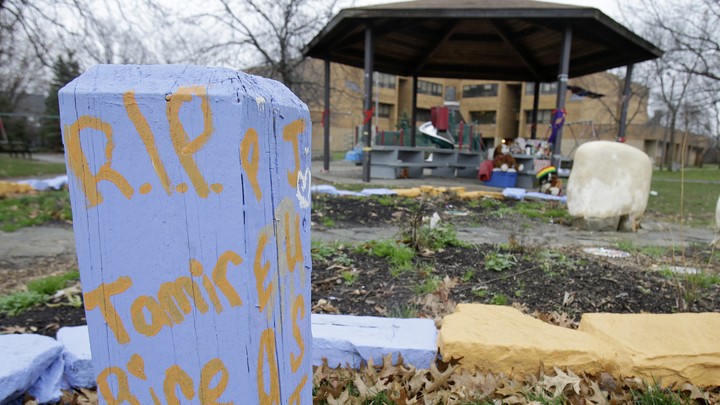 Seventeen months after a Cleveland police officer shot and killed 12-year-old Tamir Rice, and five months after a grand jury declined to indict that officer, the city of Cleveland will pay $6 million to Rice's family to settle a civil lawsuit.
In a settlement announced Monday, the city will pay $3 million each this year and in 2017. The lion's share, $5.5 million, goes to Rice's estate. His mother and sister will receive another $250,000 a piece. The settlement, under which the city admits no wrongdoing, forecloses a painful and acrimonious litigation process that could have stretched for years. But as The Plain Dealer notes, it also means there won't be answers to some of the questions the civil lawsuit sought to address, including whether dispatchers passed along adequate information to officers, and whether the department erred in hiring Officer Timothy Loehmann, who fired the fatal shots.
The huge settlement is not especially surprising, either for cases of wrongful death like this one, or for the Cleveland Police Department in particular. While police are seldom prosecuted and convicted by the criminal justice system in connection with brutality and death cases, cities and departments often pay large sums to victims or their families in connection with civil suits. Cleveland in particular paid out at least $10.5 million for a decade preceding Rice's killing.
Yet the Rice settlement is unusually large, both for Cleveland and nationally, though it is in line with some of the more recent high-profile cases. The family of Laquan McDonald, an unarmed man killed by a Chicago police officer, received $5 million. The family of Freddie Gray, who was mortally injured while riding in a Baltimore police van just over a year ago, received $6.4 million. The size of the settlement may reflect in part the circumstances of Rice's death. Video of an unarmed black boy being gunned down by police just seconds after they arrived on the scene sparked national horror. (Rice had been holding an Airsoft gun.) As more information about Rice's killing emerged, it added fuel to the outrage. The officers on the scene, Loehmann and Frank Garmback, hadn't delivered first aid, a role left to an FBI officer who happened to be nearby. Rice's sister was kept from running to her wounded brother. Damaging revelations about Loehmann's prior police career added to the fury. He had resigned from another Northeast Ohio department after a bad performance review, and had been rejected by other area departments, information the Cleveland department apparently did not turn up.
But in late December, after releasing a series of exculpatory reports about the officers' handling of the incident, Cuyahoga County Prosecutor Timothy McGinty announced that a grand jury had opted not to issue indictments in the case. Activists accused McGinty of excessive friendliness to the police and of working to torpedo an indictment. McGinty lost his bid for re-election when he was defeated by a wide margin in the Democratic primary in March.
Mayor Frank Jackson told The Plain Dealer in 2015 that the pattern of settlements in the city did not prove a pattern of abuse, and said that some officers might not have been at fault. It is true that cities sometimes settle cases rather than risk lengthy or expensive litigation. But the U.S. Department of Justice disagreed, and in May of that year reached a consent decree with the city that requires a passel of reforms.
In a statement, attorneys for Rice's family noted that "no amount of money can adequately compensate for the loss of a life." While the payout cannot do that, could it be a force for good, encouraging changes in policing in the Forest City, and guaranteeing that there are no future cases like Tamir Rice? Jackson's disavowal of a connection between lawsuits and misconduct  points to the reality of civil lawsuits against police departments. As long as the criminal-justice system remains unfriendly to prosecuting cops—a situation many reformers are hoping to change—civil suits remain one of the few and best tools available for holding police to account. Just how good are they, though? Reaching a definitive answer is nigh unto impossible, but anecdotal and scholarly work alike have reached the conclusion that lawsuits are at best an inconsistent tool for police accountability.
In a 2012 paper, UCLA Law professor Joanna Schwartz studied how and what police departments can learn from lawsuits. Schwartz found that some departments have been proactive about studying what payouts show and trying to reform their departments. But she also pointed to a series of weaknesses of lawsuits as a corrective. For example:
Many people never sue and lawsuit payouts can distort the extent of a defendant's responsibility. Lawsuits are resolved long after the underlying incident occurred and are generally focused on individual bad actors instead of the policy makers that could affect organizational change.
As Schwartz further noted, it's unclear whether big payouts really do much to deter bad behavior in the future. "The deterrent signal is further skewed in police misconduct cases, where officers are almost certain to be indemnified and judgments against departments come from city budgets, not police coffers," she wrote.
Some experts have pointed to that question of who pays as important in understanding whether lawsuits and settlements produce reforms. In cities where the police are insured by outside companies, the insurers can be a force for change, demanding that departments change practices in return for continued insurance, and working with cities to produce those changes. But many large cities are self-insured, including Cleveland. That means that the price of settlements like the Rice family's come not from police in particular but from the city overall—and, in turn, from taxpayers. Paradoxically, that means that Cleveland citizens, who are most likely to be victimized by the city's troubled police practices, are also those who bear the economic brunt of the settlements.
Not that the city of Cleveland hasn't done its best to recoup revenues in the Rice case, too. In February, the city filed a claim in probate court, demanding $500 from Rice's estate to pay for ambulance costs in his death. Jackson and others said the claim was made in error, and the city hurriedly withdrew.
We want to hear what you think about this article. Submit a letter to the editor or write to letters@theatlantic.com.