Stephen Curry, Wounded Warrior
The Golden State Warriors' star player will sit out for two weeks over a strained ligament in his knee.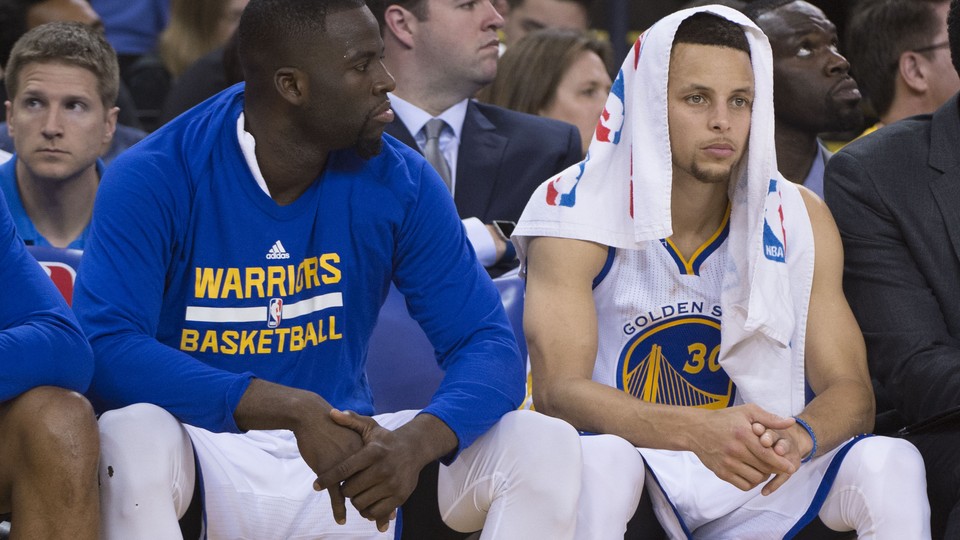 The Golden State Warriors' Stephen Curry will sit out the next two weeks after he slipped in the fourth game of the Western Conference playoffs against the Houston Rockets.
Thanks 4 all the prayers & messages. Can feel all the positive energy. God is Great! All things considered I'm Gonna be alright! #DubNation

— Stephen Curry (@StephenCurry30) April 25, 2016
An MRI revealed Monday a sprain to Curry's medial collateral ligament, one of the knee's four largest ligaments. In a video clip of the slip, Curry's leg can be seen gliding out from under him as he guards Trevor Ariza in the first half. As Curry tries to plant at the top of the three-point line, his left leg slides forward and he smacks his right knee on the court. He falls to the ground and grabs his knee, then winces as he stands back up and heads almost straight for the locker room. It's believed Curry slipped on a wet spot.
Curry returned after halftime to test his knee, but he couldn't play on it. Golden State went on to beat the Rockets, which made them 3-1 in the best-of-seven series for the first-round of the Western Conference playoffs. Curry missed only three games in the regular season, but he sat out both the second and third games against Houston because of an ankle injury. Curry's absence will give the Rockets a better chance at a win, but to advance to the next round they would need to carry all three of the next games.