Sandy Hook Lawsuit Moves Forward
A Connecticut judge refused to throw out a case against the company that makes a weapon used in the 2012 shootings.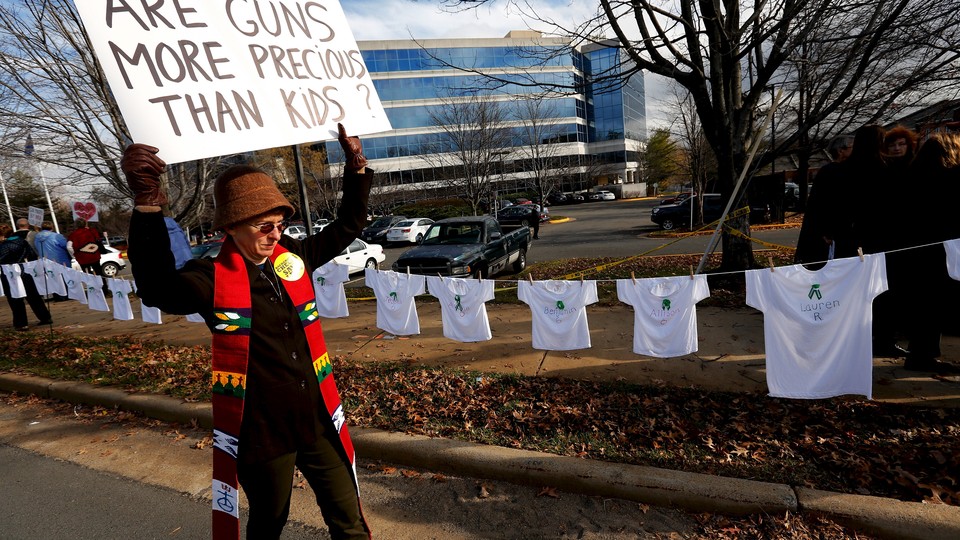 A state Superior Court judge in Connecticut on Thursday refused to throw out a lawsuit against Bushmaster Firearms, the gun manufacturer that makes the rifle used in the Sandy Hook Elementary School shootings that left 28 people dead in late 2012.
The families of the victims, which included 20 children and six school staff members, sued the gun manufacturer, arguing the AR-15 rifle Adam Lanza used in the shooting should never have been sold to civilians. This is a potentially devastating blow to the gun industry, which has been protected by federal law from being held liable for crimes committed with its products.
Mark Obbie, writing in The Atlantic in February, says as the case goes forward, the families will attempt to use the gun industry's marketing tactics against it:
Those tactics, never tested before under [Protection of Lawful Commerce in Arms Act], dominate the allegations spelled out in the plaintiffs' complaint. It quotes several advertisements from a catalog aimed at civilian gun buyers that is adorned with action photos of camouflage-clad soldiers and police in body armor. One reads, "Forces of opposition, bow down. You are single-handedly outnumbered." Other images tout the rifle's "military-proven performance" and call it "the ultimate combat weapons system."

With that type of marketing, the Sandy Hook families claim, "The Bushmaster Defendants attract buyers by extolling the militaristic and assaultive qualities of their AR-15 rifles." The complaint alleges that while the weapon is suitable for the military and for law enforcement—where it's used for combat and limited police purposes—in civilian hands, the high-caliber, rapid-fire rifles are essentially killing machines.
The judge on Thursday ordered both sides of the case to meet again April 19 as the lawsuit moves forward into uncharted territory.