Purple Tears
The U.S. pays tribute to Prince.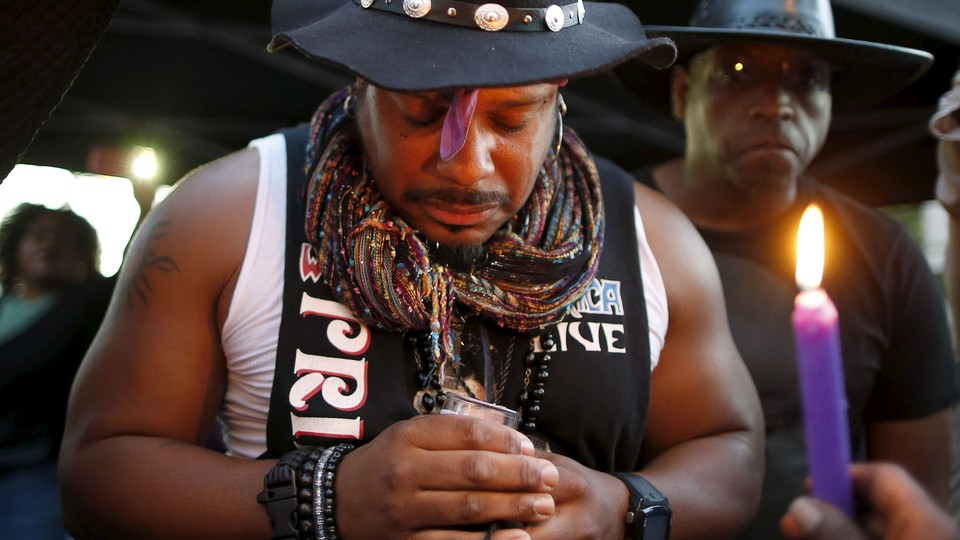 A day after Prince died, peopled danced all night at block parties. Stadiums and city halls offered tributes and celebrated a man who could be identified not in name, but by symbol, and by color. He was loved equally by mothers and rebellious sons, someone who kneaded together rock, funk, R&B, and made it his own.
Prince died at 57 in his Minnesota compound, Paisley Park. Police found him unconscious in his elevator Thursday, and declared him dead at 10:07 am. A coroner completed his autopsy Friday, but the results won't be released for days, possibly weeks. Almost instantly after his death, Prince's albums "The Very Best of Prince," "Purple Rain," "The Hits/The B-Sides," "1999," hit iTunes Top Albums chart. By the afternoon, his sister, Tyka Nelson, walked outside his compound to a crowd clutching balloons, raising signs with words of condolence, flower bouquets. Nelson stopped long enough to tell the mourners that her brother "loved all of you. Thank you for loving him back."
As it rained in his home city of Minneapolis, where he was born Prince Rogers Nelson on June 7, 1958, his fans and adorers gathered at First Avenue, the venue where he often played, and that was also the set for the movie Purple Rain. Then the music began. Billboard magazine wrote:
And so it was: part tribute, part jam, all Minnesota Nice as the Heavy Metal boys with long beards and leather coats stood shoulder-to-shoulder with girls in purple bell bottoms, men with purple feathers in their hair, a kid with a sign that read "Free Hugs," young moms swaying with their children in their arms, middle-aged couples holding hands and reminiscing about the time they waited 5, no 7, no 14 hours in line for a last-minute concert …
In south Los Angeles, middle-aged mourners and toddlers paid tribute to The Purple One. Women sobbed in the Leimert Park wearing purple caps and Prince T-shirts. An older man breakdanced on the concrete while a woman swung near holding a lit purple candle. They remembered Prince as an unapologetic non-conformist, someone who could "mix the masculine and the feminine," a man named Erick Johnson told the Los Angeles Times, adding that "for a black man to do that and still have all the women, all the beautiful women, that says that you are really, truly yourself."
On the East Coast, in New York, Jennifer Hudson and the Broadway cast of––coincidentally––"The Color Purple," sung a Sunday-spiritual rendition of "Purple Rain."
In Brooklyn, some 1,000 people came to filmmaker Spike Lee's home, where like a conductor he stood on his stoop in a purple shirt and orchestrated a party filled with young and old, parents and babies, dogs and their owners. They danced well into the night.
Those who knew him personally, the celebrities and musicians who grew up around him, or grew up listening to him, tried to describe a man that everyone conceded had changed music and culture in ways that were indescribable. Questlove, drummer for The Roots, reacted to news of his idol's death by saying:
I can't fucking breathe right now

— Questlove Gomez (@questlove) April 21, 2016
"'A strong spirit transcends rules,' Prince once said—and nobody's spirit was stronger, bolder, or more creative." —President Obama

— Barack Obama (@BarackObama) April 21, 2016
Niagara Falls glowed purple Thursday evening, though it was reportedly not for Prince, but to mark Queen Elizabeth II's 90th birthday. Purple may be the color of royalty, but on Thursday that color meant only one thing.