The Fight Over Boulder's Sister-City Plan
The Colorado city wanted to formalize relations with the Palestinian city of Nabus. Opponents weren't happy.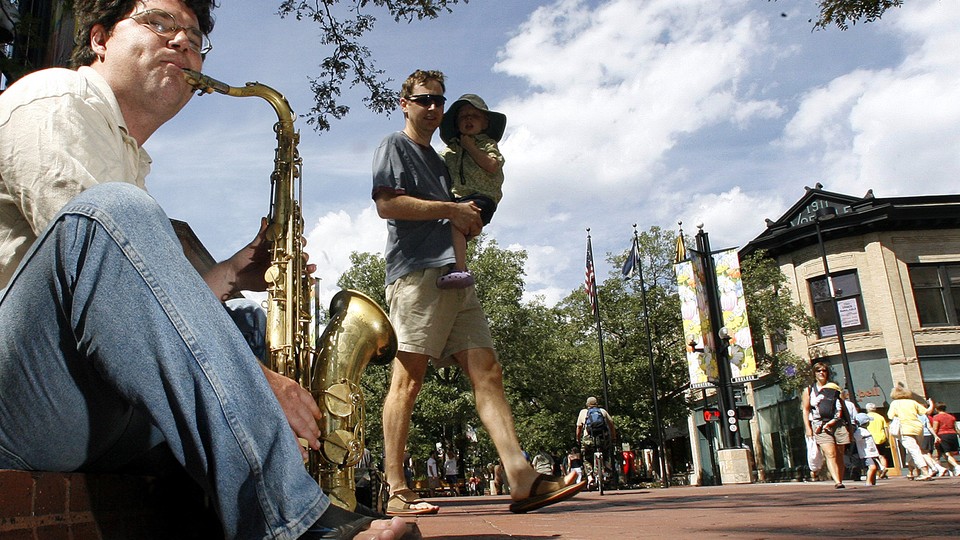 The Boulder, Colorado, City Council voted Tuesday to hire a moderator who could start peace talks between two rival groups in the city. The hope is to bring them together in an argument over whether or not Boulder should officially become sister cities with Nablus, the city in the Palestinian West Bank.
The debate has turned City Council meetings in this mountain city contentious. Those against choosing Nablus as a sister city argue a formal relationship is tantamount to picking sides in the conflict between Israelis and the Palestinians. Those who favor the move say the aim is to promote understanding between cultures. Indeed, they say the sister-cities agreement would merely formalize programs that already exist between Boulder and Nablus: Residents of the West Bank city are brought to Boulder and taught yoga, which they practice upon their return home; there is a pen-pal program between students in the two cities, as well as a proposal to build a rock-climbing wall in Nablus.
But it's not the first time the proposal has caused conflict, as the Boulder Weekly reported:
In June of 2013, the last time around, opponents argued that Nablus, a Palestinian city in the occupied West Bank of the Palestinian territories, is a hotbed of terrorism and anti-Semitic sentiment that Boulder ought to steer clear of, or, at the very least, not attach its name to via an official Sister City partnership. Proponents contested this view, arguing it is a gross mischaracterization of a complex and particularly misunderstood region. They asserted their mission of citizen-to-citizen diplomacy would foster inter-cultural understanding, therefore making their project a mutually beneficial step in the direction of world peace.
The Boulder Weekly called the issue a "destructive political situation" for the city. And indeed, the  council was supposed to hold a public hearing on the proposal April 19, but moved for mediation because of the heightened emotions.
The sister-city program, which is supposed to foster friendship between different cultures, formally began in 1956. The oldest recognized partnership––according to its own website––is that of Toledo, Ohio, and Toledo Spain. It started because the Spanish city sided with Ohio in a boundary dispute (called the Toledo War) with Michigan, which wanted to claim Toledo (Ohio) as its own. Boulder already has seven sister cities. They are: Dushanbe, Tajikistan; Jalapa, Nicaragua; Kisumu, Kenya; Lhasa, Tibet; Manté, Mexico; Yamagata, Japan; and Yateras, Cuba.