Major Flooding in Houston
Authorities have already rescued 150 people from the water, as heavy rain is expected to continue until Tuesday.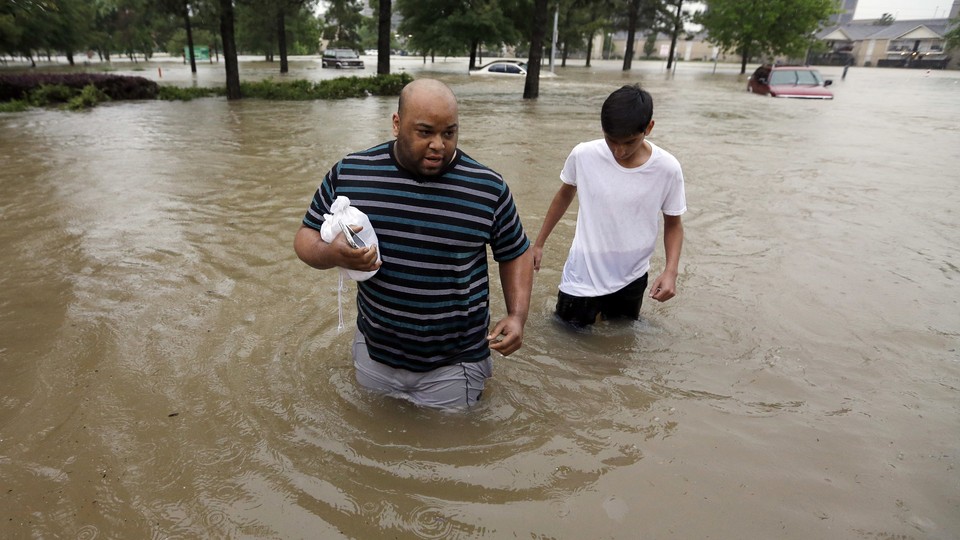 Houston is facing "a life-threatening emergency," as low-lying areas of the Texan city continue to flood from severe storms. Heavy downpour has resulted in as much as 16 inches of rain and authorities have already rescued 150 people from the water, local officials say.
The storm, which started overnight Sunday, is expected to continue until Tuesday. Many residents woke up to the roads already being flooded, The Houston Chronicle reports. Satellite imagery shows the intensity of the storm:
Harrowing video from CNN show drivers escaping their submerged cars through the windows and swimming to safety. Officials have urged residents to remain at home and stay off the roads. "You'll help yourself and, quite frankly, you will help all the responders out there who are trying to deal with all of these emergencies," Houston Mayor Sylvester Turner told reporters Monday.
There are no injuries or deaths, according to latest reports. Officials say around 121,000 homes are without electricity, and an additional 1,000 homes have flooded in Harris County. Hundreds of local flights have also been canceled.
Harris County Judge Ed Emmett declared the situation a disaster, which will lead the way for emergency federal funding.
This is a developing story and will be updated.