Harriet Tubman's Journey to the $20 Bill
The Treasury Department is expected to announce that the African American woman who helped slaves escape to free states will replace Andrew Jackson on the front of the new note.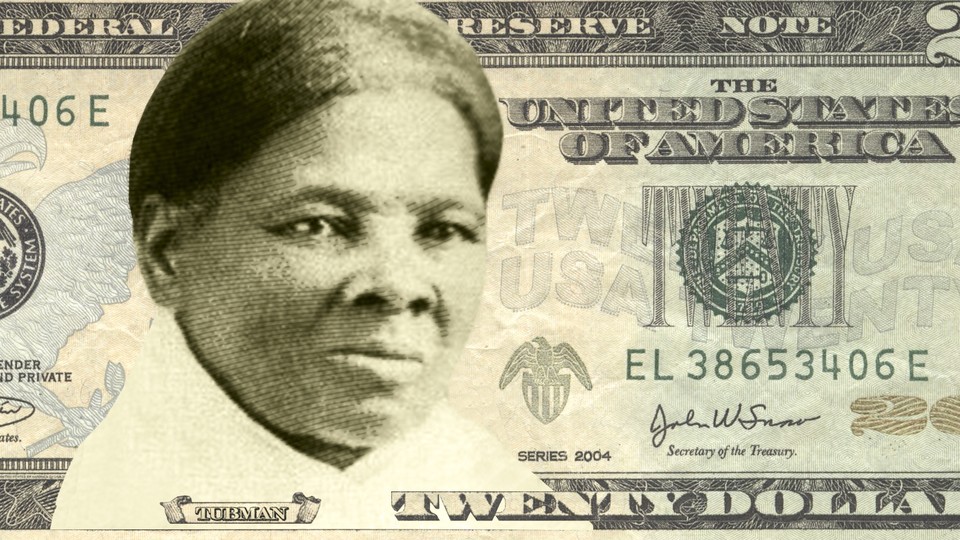 The U.S. Treasury reportedly will announce Wednesday that Harriet Tubman, the African American woman who helped slaves cross into freedom, will replace Andrew Jackson, the nation's seventh president and a slave-owner, on the front of the new $20 note.
Treasury Secretary Jack Lew also is expected to introduce several redesigns to the $5 and $10 bills that would honor other important figures in American history, including leaders of the civil rights and women's suffrage movements, according to Politico. Alexander Hamilton will remain on the $10 bill, much to Hamilton fans' delight; Lew floated the idea of replacing him with a woman last year.
My colleague and newsroom historian Yoni Appelbaum points out a moment in Tubman's life that involved the $20 bill, documented by Sarah Hopkins Bradford, who wrote the first biography of the anti-slavery activist in 1869. Tubman had asked the New York abolitionist Oliver Johnson for money to help her parents, who were still held as slaves in Maryland. When he refused, Tubman camped out in his office:
"Twenty dollars? Who told you to come here for twenty dollars?"

"De Lord tole me, sir."

"Well, I guess the Lord's mistaken this time."

"I guess he isn't, sir. Anyhow I'm gwine to sit here till I git it."

So she sat down and went to sleep. All the morning and all the afternoon she sat there still, sleeping and rousing up—sometimes finding the office full of gentlemen—sometimes finding herself alone. Many fugitives were passing through New York at that time, and those who came in supposed that she was one of them, tired out and resting. Sometimes she would be roused up with the words, "Come, Harriet, you had better go. There's no money for you here." "No, sir. I'm not gwine till I git my twenty dollars."
The redesigns will be unveiled in 2020, and the new notes would reach circulation the following decade, according to The New York Times.