The End of Halliburton's Merger With Baker Hughes
The U.S. Department of Justice filed a civil antitrust lawsuit to stop the deal between two of the world's largest oilfield-services companies.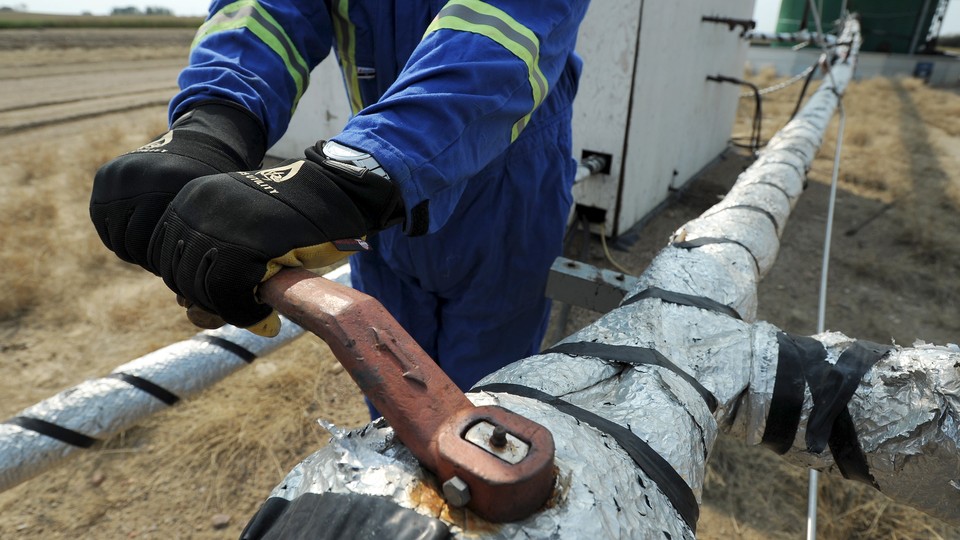 The U.S. Department of Justice filed a civil antitrust lawsuit Wednesday to block a merger between Halliburton, the world's second-largest oilfield-services company, and the third-largest, Baker Hughes.
The deal, which was announced in November 2014, was originally valued at $35 billion. It would have seen Halliburton acquire Baker Hughes's shares, and combine their 136,000 employees in 80 countries. But in a statement announcing the suit, which was filed in Delaware, where both companies are incorporated, the Justice Department said the deal would raise prices and eliminate competition.
Attorney General Loretta Lynch said the deal would "skew energy markets and harm American consumers."
The two companies had tried to assuage the Justice Department's concerns before Wednesday's lawsuit. They offered to sell assets worth $7.5 billion to reassure officials there'd be enough competition. But low oil prices have weakened competition all around. To stave off the pain of falling prices, Halliburton has already laid off thousands of workers; the deal with Baker Hughes was supposed to strengthen it against competition in a global environment that's now characterized by low energy prices, and bolster it against Schlumberger, the market leader in the sector.
Halliburton seemed confident the deal would pass. It had agreed to a $3.5 billion breakup fee with Baker Hughes, which Halliburton is on the hook for if the deal fizzles. Both companies said they'd both contest the suit. In a statement released Wednesday, they said the Justice Department's "action is counterproductive, especially in the context of the challenges the U.S. and global energy industry are currently experiencing."
The proposed merger also faced scrutiny from the European Union's competition authority, as well as from regulators in Australia and Brazil.