Deadly Houston Flooding
At least six people are dead after days of heavy rain in southeast Texas.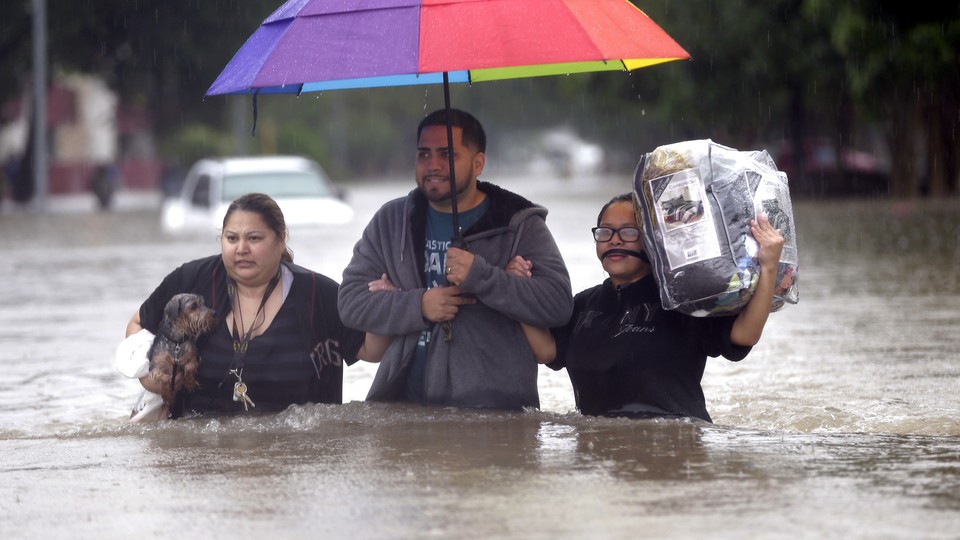 Updated on April 19 at 12:15 p.m. ET
As much as a foot and a half of rain has fallen in parts of southeast Texas from storms that started Sunday.
Authorities conducted more than 1,200 water rescues, including one that saved 70 trapped horses. In parts of Houston, water levels reached 20 inches. As of Tuesday morning, there is a flash-flood watch for city, the fourth-largest in the U.S., situated close to the Gulf of Mexico. More rain is expected Tuesday, with chances of it continuing for the next few days. A flood watch is in effect until Wednesday morning.
Texas Governor Greg Abbott on Monday signed a disaster declaration for nine counties in the area.
At least three of the six deaths occurred in a highway underpass. Indeed, "most people who die in flash flooding will die in their vehicles," the National Weather Service warned, urging Houston residents to stay off flooded roads Tuesday.
While Houston Mayor Sylvester Turner said authorities were actively rescuing people stranded in water, he implored residents to stay at home and wait the storm out. "A lot of rain coming in a very short period of time, there's nothing you can do," he said, according to the Associated Press.
Authorities were unable to respond to 180 emergency calls because of high water, the mayor said. More than 1,000 buildings and homes were flooded, the Houston Chronicle reports.
The region has experienced devastating flooding before: Tropical Storm Allison, which struck Houston in 2011, caused $5 billion in damages.