Semi-Automatic Rifles in a Colorado School
Security officers in the Douglas School District will soon carry Bushmaster rifles.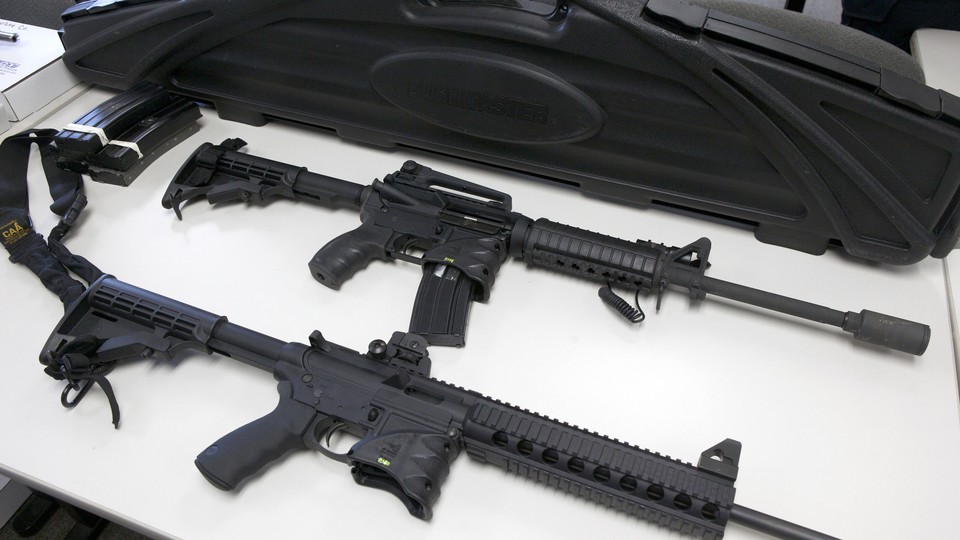 Security officers at schools in Colorado's Douglas County School District will soon be armed with semi-automatic Bushmaster rifles.
The school district's director of security, Richard Payne, spent more than $12,000 on the 10 semi-automatic rifles, a popular design of which comes with a 16-inch barrel that fires 30 rounds. Payne said he saw a need for the rifles because while his school-security officers trained "hand-to-hand" with sheriff's deputies, he noticed his officers only carried handguns, while the sheriff's office "used the larger weapons," The Denver Post wrote.
A reporter with the paper found that security officers armed with the weapons are, at least for Colorado, pretty unheard of.
Calls to the other large school districts in the Denver area indicate that Douglas County's move is unique. Security workers in Denver, Aurora and Jefferson County school districts carry handguns, and security staffers in Cherry Creek are unarmed. The districts have school resource officers who are active members of law enforcement and carry police-issued weapons.
Some gun-rights advocates say weapons in schools and colleges is one way to keep students safe. In Texas, people can carry guns on public college and university campuses starting August 1. Idaho, Kansas, Mississippi, Oregon, Utah, and Wisconsin also allow people with a permit to carry guns on campus. Georgia and Tennessee could join them soon. But in plenty more states and school districts, police, deputies, security guards, even teachers, can be armed in class. This has been a reaction to campus shootings, like Virginia Tech in 2007, and Sandy Hook, where Adam Lanza shot 20 Connecticut elementary students with a Bushmaster rifle, the kind being bought in Colorado.
Payne told the Post officers would keep the rifles in their cars, but Ken Trump, a national school security consultant, pointed out that a semi-automatic in a school, with hallways full of kids, is "not something to do lightly. It better be well-thought-out." The district school board wasn't notified––probably because only purchases of $75,000 or more are brought before the panel.