A Police Shooting Over a Fake Gun in Baltimore
City police shot and injured a 13-year-old boy carrying a fake weapon Wednesday.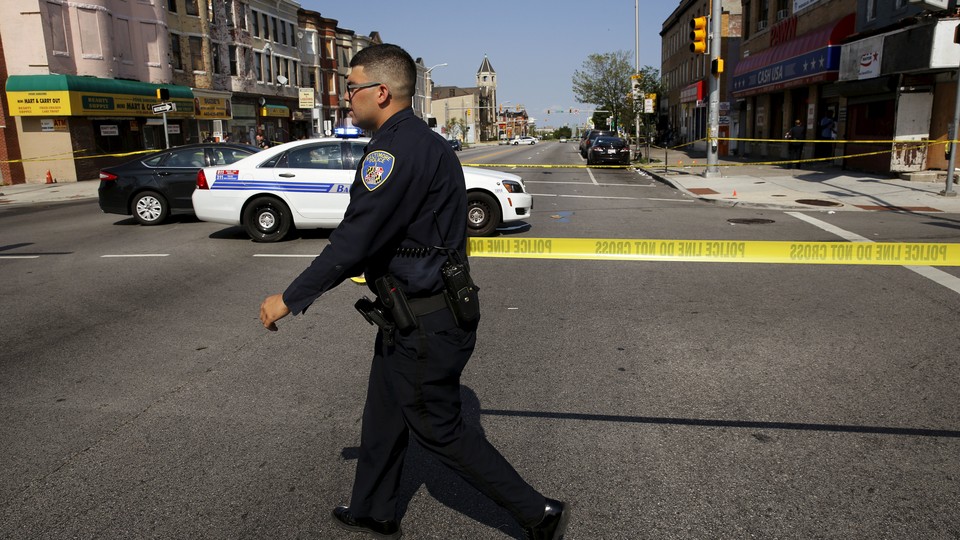 Police in Baltimore shot a 13-year-old boy who was carrying a fake gun late Wednesday afternoon. The boy sustained non-life-threatening injuries.
Two officers saw the boy and what looked to be a weapon, and chased him. One officer soon after shot him. The Baltimore Sun reports:
[Police Commissioner Kevin] Davis said he had "no reason to believe that these officers acted inappropriately in any way," saying the officers did not know whether the weapon was a gun or a replica. Davis also confirmed that the boy's mother was taken in for questioning. He told reporters at the scene that "she knew" that he had left their home with the replica weapon.
On the other side of the city, Mayor Stephanie Rawlings-Blake and others were gathered to mark the one-year anniversary of protests that erupted after the death of Freddie Gray in police custody. Wednesday's shooting also occurred amidst a spike in violence in Baltimore. Justin Fenton of The Sun reports that in the last three days, 16 people have been shot and nine killed in the city.
The shooting comes just days after the city of Cleveland reached a settlement with the family of Tamir Rice, a 12-year-old boy who was shot and killed by police in 2014 while carrying a toy gun. On Monday, officials announced the city agreed to pay $6 million.