'It's Always the Cover-up, Never the Crime': Bad Move by the Leadership of UC Davis
Editor's Note:
This article previously appeared in a different format as part of The Atlantic's Notes section, retired in 2021.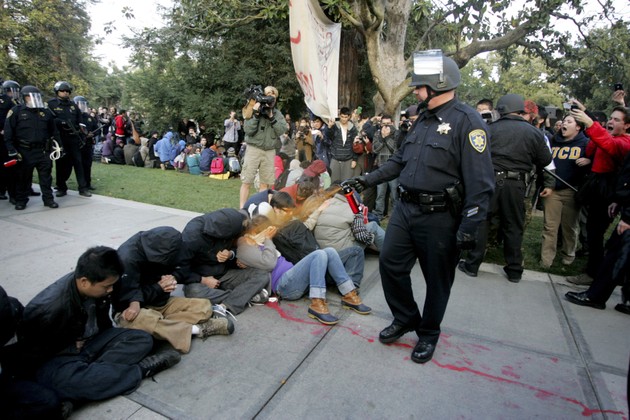 Davis, California, is a wonderful town, and the academic / tech / agricultural complex that has arisen around UC Davis makes the area one of the all-round most attractive place in the country. My wife Deb and I have written a number of reports about the nearby town of Winters, still mainly a farming community. Mike McCoy, a transportation and planning expert at UC Davis, and many of his colleagues have been generous advisors on a number of topics, notably the arguments pro and con California's plans for high-speed rail.
So, I like the UCD Aggies and their homeland. But nearly five years ago, as part of the nationwide Occupy movement, Davis was the scene of an ugly showdown. It's the one captured in the famous photo at the top of this post, and which I wrote about at the time. (First and with numerous links here, then here, and here.)
Yesterday Sam Stanton and Diana Lambert of the Sacramento Bee broke the incredible-but-true news that senior UC Davis officials, under tight economic constraints on the UC system as a whole, had spent at least $175,000 hiring consultants for an "online branding campaign designed to clean up the negative attention the University of California, Davis, and Chancellor Katehi have received," according to the consultant's proposal the Bee obtained under the California Public Records Act.
That's UCD chancellor Linda Katehi, at center below, after apologizing to students for the pepper-spraying back in 2011.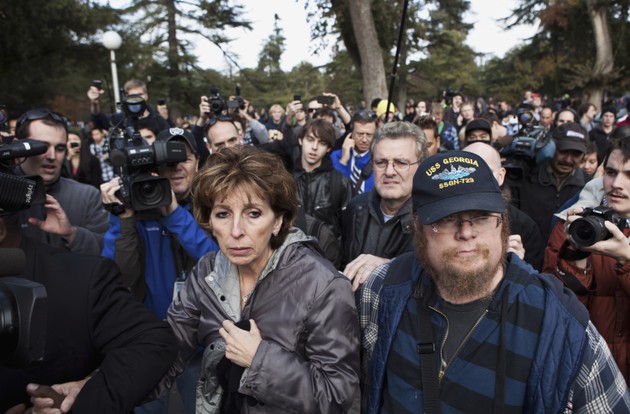 ***
Why mention this? For one, it was a big event at UCD, and it's worth following the sequel. If you're really interested, please go back to the 190-page "Reynoso Task Force report" on the episode, prepared by former California Supreme Court Justice Cruz Reynoso, which is unsparing in its judgments especially of Chancellor Katehi.
And there are two additional evergreen themes this brings up. One is that stalwart, "it's always the coverup, it's never the crime." What happened at Davis nearly five years ago was brutal though not necessarily a "crime." But it will receive ten times the lasting notice, online and elsewhere, because of this cleanup effort than if the university had just let it be.
The other is: local and statehouse reporting really matters. Congratulations and thanks to the Sacramento Bee. This is the part of journalism under greatest pressure in this era's "creative destruction" of the media business, but the Bee's persistence mattered. Congratulations, thanks, and respect.
Now, for those in charge of UCD …