America by Air: Depot Alabama
Editor's Note:
This article previously appeared in a different format as part of The Atlantic's Notes section, retired in 2021.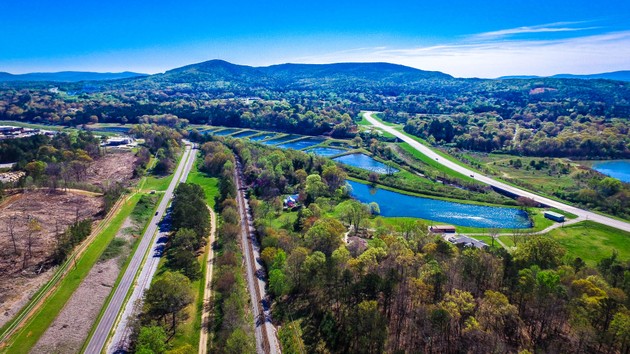 On the tail of that glider we posted yesterday, here is yet another form of aircraft for the series:
Does drone photography qualify for "America by Air"? This was taken on 3/29/2016 while I was flying for the Anniston Army Depot. (Don't worry, the depot itself is out of frame, to the left—although eagle-eyed viewers may notice some M113 variants to the left.) The stand of cleared trees in the bottom left is to become a solar power site, which is why I was out there.

The mountain in the picture is Coldwater Mountain, site of silver-level mountain biking trails and a natural spring which provides much of the community its water. Although not visible, behind Coldwater Mountain lies Mount Cheaha, Alabama's highest peak (the range it is a part of is visible in the background). On the other side of Coldwater are the cities of Anniston and Oxford, nestled in a valley.

The picture itself isn't one of masterful composition, but both the colors and natural beauty strike me.
Lucas double-checked with the Army about posting and followed up:
They did clear the picture for publication and sent along some general information about the depot in case your readers wanted some additional information. I've quoted them here:
Nestled in the foothills of the Appalachian Mountains, Anniston Army Depot is a U.S. Army maintenance center and munitions storage site occupying more than 25 square miles of land. ANAD is the Department of Defense's Center of Industrial and Technical Excellence for combat vehicles, including assault bridging, artillery and small caliber weapons, and locomotives, rail equipment and non-tactical generators.  

The installation operates mission and base operations functions under TACOM Life Cycle Management Command. It serves and supports a number of customers: active duty, reserve component, and joint service Soldiers and Marines; retirees; DoD civilians; families of servicemembers; contractors; and volunteers. ANAD is proud of its rich history, whereas this year marks its diamond anniversary—seventy-five years of dedication while playing a vital role in our nation's defense mission.

And the depot continues to do amazing things! The Department of Defense has launched several initiatives to reduce its fossil fuel dependence by improving energy efficiency and shifting to renewable energy to meet operational and installation needs. Recently, the depot took an additional step to not only meet, but exceed the Army's goals of renewable energy while enhancing national security. The Office of Energy Initiatives, Alabama Power Company and the depot, in coordination with General Services Administration Corp of Engineers and the Mission and Installation Contracting Command, are developing a solar project capable of producing up to 10 megawatt alternating current at the depot. This ground breaking takes place in April and commercial operation is expected in the fall.