America by Air: Lighthouses of the Outer Banks
Editor's Note:
This article previously appeared in a different format as part of The Atlantic's Notes section, retired in 2021.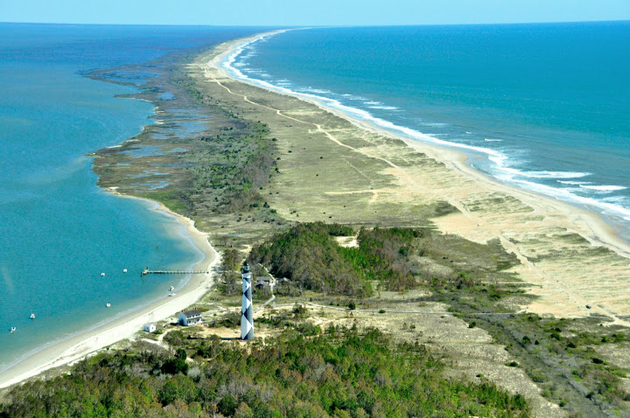 Ideally we want to see part of the aircraft in these aerial photos, but this one from reader Rama is way too good to pass up:
Here's a favorite of mine taken four years ago in the Outer Banks. This is Cape Lookout Lighthouse. The Light at Cape Hatteras gets all the attention, being the tallest in the U.S., but Cape Lookout Lighthouse is my favorite. The beauty of the Outer Banks and its lighthouses can be appreciated best from above. This was on a custom lighthouse tour that took us around six iconic lights of the OBX.
My family and I used to vacation once a year in nearby Duck when I was in middle school, so the Outer Banks looms large in my memory. If you, like Rama, have a great aerial photo from the OBX to share, or in general have a memorable view above your childhood vacation spot, please send: hello@theatlantic.com (submission guidelines here).