America by Air: Chicago's Lakefront
Editor's Note:
This article previously appeared in a different format as part of The Atlantic's Notes section, retired in 2021.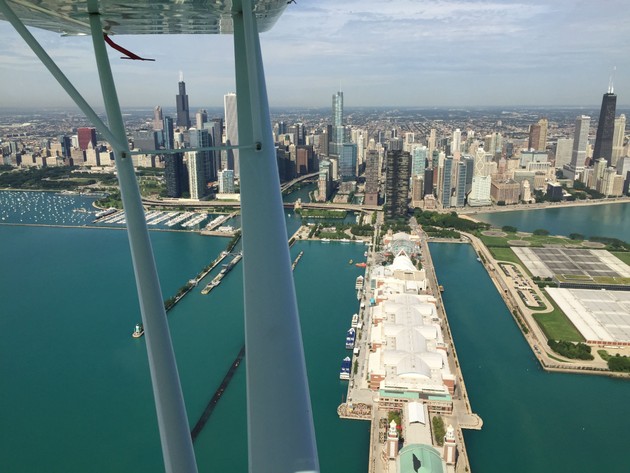 We started "America by Air" as a month-long series of aerial photos from readers that accompanied Jim's March cover story, "How America Is Putting Itself Back Together," which he reported with his wife Deb over three years across the U.S. via their single-engine plane. Readers not only keep sending more and more submissions, but the quality of the photos and anecdotes are getting better and better. So we've now turned "America by Air" into a standard feature of Notes, posting one a day, more or less, for the indefinite future, joining the ranks of Orbital View and Track of the Day. So please keep 'em coming. Submission guidelines here.
The latest aerial view is a real beauty, coming from reader John Zimmerman:
Every year I like to fly to the big Oshkosh air show low and slow, enjoying the view at 90 knots—after all, getting to the big fly-in really is half the fun. One of the highlights of the trip every year from my home base in Cincinnati to Wisconsin is the Chicago area. If the weather is good, there's no better flight than the one that follows the lakefront. The route takes you past famous landmarks like Navy Pier, Wrigley Field, and Willis Tower (you can look up at some office workers and wave). The only downer is the flight over abandoned Meigs airport, which sits barren and undeveloped, a lasting reminder of political misconduct.

As is true so many places in the U.S., no special clearances or equipment is required—just keep your head on a swivel and enjoy the view. It's one of those "only in America" moments that knocks off the cynicism just a bit.