America by Air: Another Grand Ol' Canyon
Editor's Note:
This article previously appeared in a different format as part of The Atlantic's Notes section, retired in 2021.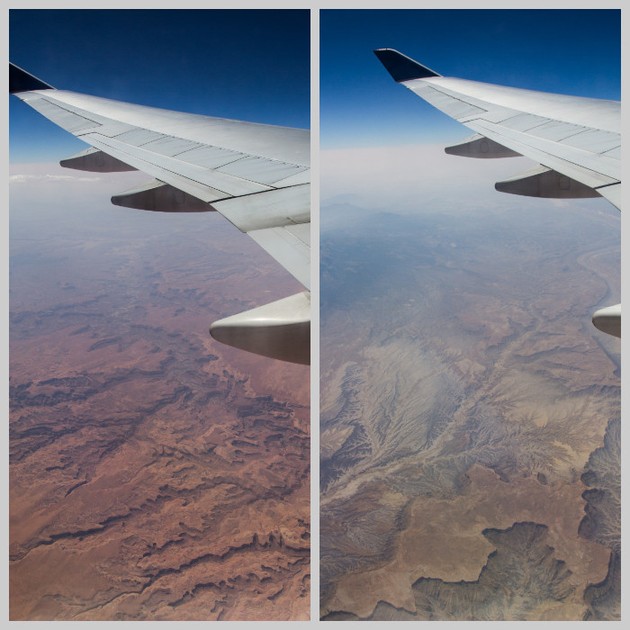 From a "longtime listener, first time caller":
I'm really enjoying your America by Air feature and thought you might enjoy these pictures I grabbed during a Delta 837 flight from Atlanta to Honolulu. The flight takes off around 11 AM (EST) and everyone was asleep by the time things got exciting, around 1 PM (EST). At this point the entire flight is dark and silent except for my wide-open window and my excited squealing as we fly over the start of Glen Canyon (picture #1) on through southern Utah (#2). I think southern Utah is some of the most beautiful landscape I've seen from the air, not to mention the ground, and I definitely recommend grabbing a window seat on the left-hand side if you ever get to take this trip.
Glen Canyon is in the news this month for a momentous announcement: "This Will Be the Biggest Dam-Removal Project in History," as National Geographic's Sarah Gilman puts it:
Federal officials, the states of Oregon and California, and the utility PacifiCorp signed a pair of agreements [on April 6] opening the way for removal of a whopping four hydroelectric dams on the Klamath River, which flows from Oregon through Northern California. [...] Congress authorized the [Glen Canyon Dam's] construction on this day [April 11] in 1956, and about seven months later, then-president Dwight D. Eisenhower pressed a telegraph key in the Oval Office, sending the signal to blast a string of dynamite wedged in the side of a sinuous canyon. Boulders sprayed through the air at Arizona's northern border, and workers began drilling a tunnel to temporarily redirect the flow of the Colorado River while they built the base of the dam. Monstrous Lake Powell filled in behind the 710-foot dam, drowning Glen Canyon's otherworldly red-rock amphitheaters and slot canyons under its silty depths.
Here's a bunch of footage and a gallery of photos before the canyon was flooded. From the latter's caption:
Before its inundation, Glen Canyon was a wonderland of gorges, spires, cliffs and grottoes. After the dam, it became 'the place no one knew.'