America by Air: A Barrel Roll of Fun
Editor's Note:
This article previously appeared in a different format as part of The Atlantic's Notes section, retired in 2021.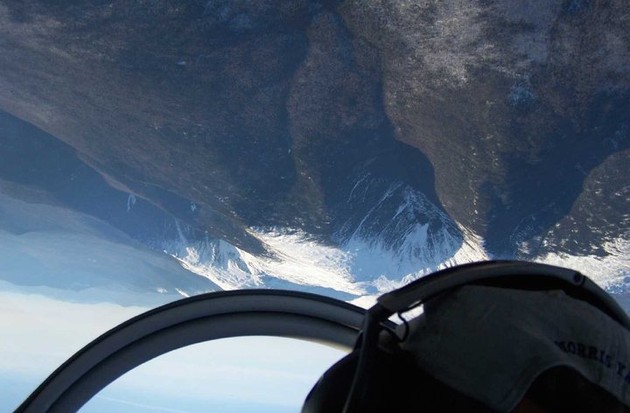 Nick Knobil sends this photo taken over—or is it under?—Mt. Washington, New Hampshire:
I am the pilot. The photographer was the then 89-year-old Don "Mac" McKibben. I saw your America by Air series and noticed that [today, April 9] is the first anniversary of Mac's death. I miss that guy.

Mac flew P-47s and P-51s with the 352nd Fighter Group over Europe during WW2. He worked for Eastman Kodak from before the war until he retired. He always had the latest digital camera gear … a thoroughly modern guy. And he never lost his "let's go!" love of flying.
When I asked Nick what maneuver he was making in the photo, he replied:
I honestly don't remember—barrel roll, aileron roll, or loop. Mac and I would whoop and holler …
I found a Facebook post that Nick wrote a year ago today—a tribute to his flying buddy:
Our pal Don "Mac" McKibben died this afternoon. His eldest son, Frank, was with him.

Don grew up a poor kid in upstate New York during the Depression, and like so many of us, grew up with a fascination of flight that lasted throughout his long life. He soloed a Piper J-3 Cub in the winter 1940 (the J-3 at that time, you remember, was a new design) in Hornell, New York through the Civilian Pilot Training program, and within two years (and with a little help from the USAAC) he was flying the most powerful, advanced fighter aircraft in the world. He was 21.

He was a part of the big fight; a founding member of the 21st Fighter Squadron, which became the 486th, one of the three squadrons that comprised the 352nd Fighter Group: the "Blue Nosed Bastards of Bodney." Google it.

And then he came home, got married to his childhood sweetheart, raised three sons who've had sons and daughters of their own, and worked his whole career at Kodak.

If you knew him you knew he was well read, erudite, loved jazz music and a special martini he called the "Silver Bullet". He had his last one yesterday.

This evening I had my first "Silver Bullet" knowing that I would never be able to solve the world's problems over one with him again. The first "Bullet" was the worst one ever. The second one? Not so bad.

Keep 'em flying.