The End of SeaWorld's Orca-Breeding Program
The theme park says the killer whales in its care will be its last generation.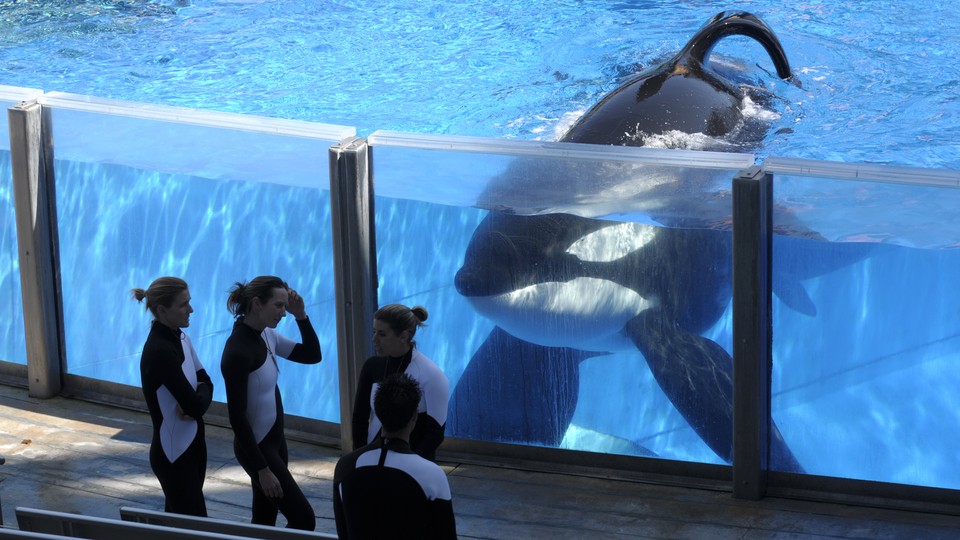 There's big news this morning from SeaWorld:
The move comes, in part, because of the backlash directed at the theme park following Blackfish, the 2013 documentary that alleged that orcas are suffering in confinement at the water parks. Subsequently, attendance at SeaWorld dropped and the company faced continued protests. The controversy prompted the resignation of Jim Atchison, SeaWorld's CEO, in 2014.
In a statement on its website on Thursday, SeaWorld acknowledged that "[s]ociety is changing and we're changing with it."
Twenty-three of SeaWorld's orcas were born in captivity at the theme park; a few have spent nearly their entire lives in human care. SeaWorld stopped the live capture of orcas from the wild decades ago.
Under the new plan, the orcas will spend the rest of their days at SeaWorld's facilities because, the theme park said, "[t]hey could not survive in oceans to compete for food, be exposed to unfamiliar diseases or to have to deal with environmental concerns—including pollution and other man-made threats."
Joel Manby, SeaWorld's current CEO, said the organization would now "increase … [its] focus on rescue operations."
SeaWorld worked on its policy with the Humane Society of the United States, which called the announcement "a major step forward toward a humane economy."
Thursday's announcement follows one in November in which SeaWorld announced it would end its "theatrical killer whale experience" at its flagship theme park in San Diego.