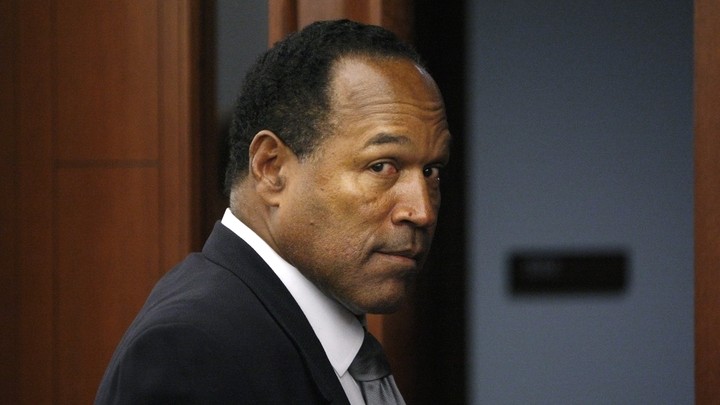 The Los Angeles Police Department is conducting forensic tests on a knife reportedly found on O.J. Simpson's former property for possible ties to the 1994 murders of Nicole Brown Simpson and Ronald Goldman, police officials said Friday.
Although some details remain unclear, TMZ first reported that a construction worker discovered the buried knife on the property of Simpson's former Brentwood estate "some years ago." Simpson's former house was razed in 1998 by new owners. The worker then reportedly walked across the street and handed it to an unidentified LAPD officer, who was working as an extra on a movie set nearby—an apparently common occurrence for off-duty LAPD officers.
The officer took the knife, then kept it in his possession without turning it over to the team investigating the Simpson and Goldman murders, Andy Neiman, a Los Angeles police captain, said at a Friday news conference. LAPD cases remain open until a suspect is convicted. The officer revealed the knife's existence to other LAPD officers sometime this year, reportedly as he neared retirement.
"I was quite shocked," Neiman said. He refused to identify the officer or the construction worker who found the knife, citing an ongoing investigation. Neiman ruled out administrative sanctions because the officer is now retired, but told reporters the department's Robbery Homicide Division will look into possible criminal charges.
Simpson's televised trial for the two murders gripped the nation in 1995, turning almost every participant into a household name and providing fodder for countless books, documentaries, and dramatizations. A FX miniseries on the courtroom saga, American Crime Story: The People vs. O.J. Simpson, debuted to critical acclaim last month.
The missing murder weapon haunted investigators before and after the trial, leading to countless false leads about its fate. Over time, it acquired a semi-mythical status. When the Brentwood estate's new owners razed the house in 1998, a construction worker joked in an interview with the Los Angeles Times, "We haven't found the knife yet."
It's still unclear whether the knife, whose existence was revealed Friday, is connected to the case in any way. Still, since Simpson, a former NFL star, was already acquitted of the murders in 1995, double jeopardy would protect him from another trial. He is currently serving a 33-year prison sentence in Nevada for his role in the 2007 armed robbery of a Las Vegas sports-memorabilia dealer. He becomes eligible for parole in October 2017.
We want to hear what you think about this article. Submit a letter to the editor or write to letters@theatlantic.com.
Matt Ford
is a former associate editor at
The Atlantic
.