Changes to Newark's Troubled Police Department
The U.S. Department of Justice and the city in New Jersey reached an agreement Wednesday to overhaul how the city's police works.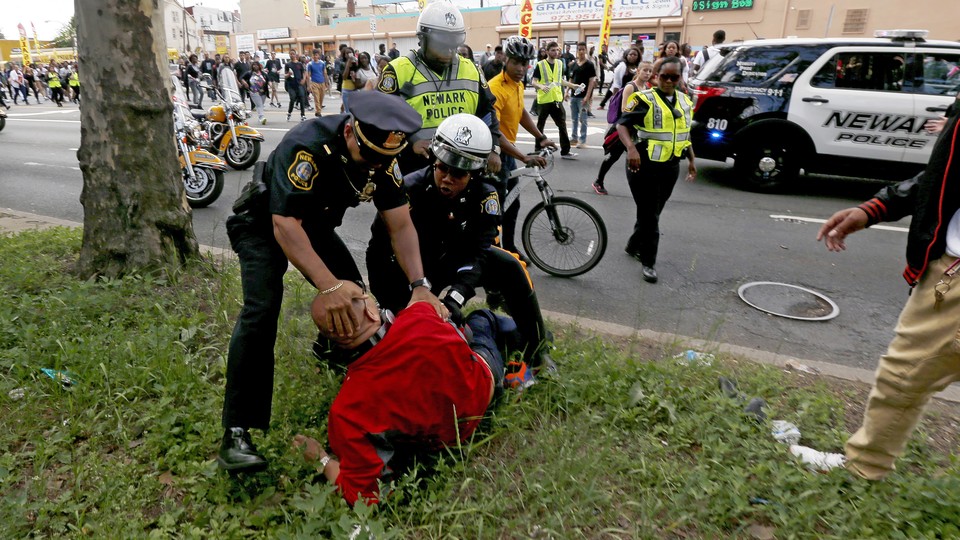 The U.S. Department of Justice and New Jersey's largest city, Newark, announced a settlement Wednesday that would correct the excessive use of force, as well as what the federal government described as illegal and discriminatory policing practices, by the city's police department.
The settlement is the result of an 2011 investigation, and the findings of a 2014 Justice Department report, which, among other things, said 75 percent of the time, Newark police had murky or insufficient legal reasons for stopping people; black residents bore the brunt of these unlawful stops; police used excessive force; and that Newark's gang and drug units stole personal property from people.
The terms of the settlement––which will be overseen by former New Jersey Attorney General Peter Harvey––will bring changes to the police department's search and seizure policies, train officers to use de-escalation techniques rather than force, and will require officers to wear body cameras. It also forces the police department to collect information on stops and arrests to prevent race-based, discriminatory policing, and creates a civilian oversight committee. The changes were announced by Vanita Gupta, head of the Justice Department's Civil Rights Division.
The complaint that led to the Justice Department investigation was brought originally by the American Civil Liberties Union of New Jersey. The organization's executive director, Udi Ofer, called the settlement "50 years in the making"—especially the enactment of a civilian oversight committee, which Newark residents had asked for after the 1967 riots in the city.
Newark is diverse––about 53 percent black, and 34 percent Latino––and the Justice Department said that in "high crime areas" police frequently stopped people for no reason, and essentially made "living or simply being in a high-crime area" an offense. In one case the report cited, officers stopped and questioned two people hailing a cab for no reason except that they matched a description of a robbery suspect––they were black, male, 15- to 20 years old, and wearing dark clothing. In another case the Justice Department cited, police stopped a man after he'd been reading a newspaper in his car. He then got out and paced, "acting agitated."
This type of action—which is called "stop-and-frisk" policing (The Atlantic wrote about it in depth in its April 2014 issue)—is meant to prevent crime through a constant reminder that officers are watching. It's come under much scrutiny––especially in New York––because so often officers focus their force on poor, black and Latino neighborhoods. As was the case in Newark.
The Justice Department report found that 80 percent of the department's stops were of black people. If you were black and lived in Newark, the report said, you had a 2.5 times greater chance of being stopped.
"This undeniable experience of being disproportionately affected by the NPD's unconstitutional policing helps explain the community distrust and cynicism that undermines effective policing in Newark," the report said.
The settlement follows similar agreements reached in Miami this February, and in Ferguson, Missouri, earlier this month.
In its 2014 report, the Justice Department pointed out Newark had adopted a system that would have allowed it to track arrests based on race, but the city chose not to include race as part of its record keeping. The department called the decision "unusual, and at odds with sound policing practices, for a police department in a major city, especially one with such diversity."
Two weeks ago, the Newark City Council voted to put in place a civilian complaint review board, which, per the agreement, is required. Ofer, the ACLU executive director, said Newark's civilian oversight committee will have "real teeth," because it'll have the power to subpoena and audit the police department's data, so it can review patterns of racism and enforcement disparities.
"We believe that when it's finally implemented," Ofer said, "it could be a model for the rest of the nation."