Mexico Isn't Buying Donald Trump's Wall
President Enrique Peña Nieto is the latest Mexican official to say his country won't pay for Republican presidential candidate Donald Trump's proposed border wall.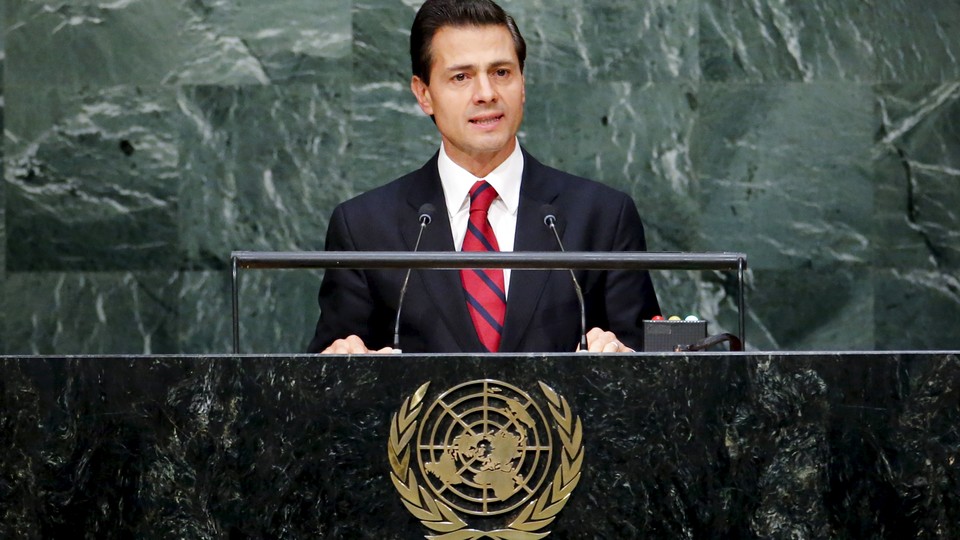 There is "no scenario" in which Mexico will pay for Donald Trump's wall, says the country's president.
Enrique Peña Nieto's remarks, published Monday in the Excelsior newspaper, make him the latest Mexican official to condemn the wall that the Republican presidential candidate has proposed building along the U.S.-Mexico border as part of his immigration plan.
Peña Nieto told Excelsior that Trump's brand of politicking and his "strident expressions" tended to pose "very easy, simple solutions to problems that, of course, are not so easily solved." He also said Trump has abused and misdirected people's economic frustrations––just as Hitler and Mussolini had done.
"There have been episodes in human history, unfortunately, where these expressions of this strident rhetoric have only led to very ominous situations in the history of humanity." Peña Nieto said. "That's how Mussolini got in, that's how Hitler got in, they took advantage of a situation, a problem perhaps, which humanity was going through at the time, after an economic crisis."
Peña Nieto is the highest ranking Mexican official to call out Trump. Although former Mexican presidents have been even more scathing, like Felipe Calderón, Peña Nieto's predecessor, who said the Mexican people won't "pay any single cent for such a stupid wall!" The president before Calderón, Vicente Fox, said simply: "I'm not going to pay for that fucking wall."
Mexican politicians have been pretty unified in their disavowal of Trump's plan. Mexico's finance minister, Luis Vinegary,  said it'll never happen, calling it an "idea based on ignorance and has no foundation in the reality of North American integration." Last week, lawmakers in Mexico City voted to request that the federal government ban Trump from visiting the country.
But unlike his colleagues, whether past presidents or legislators, Peña Nieto isn't entirely free from the political ramifications of his words––should Trump win the presidency. Mexico is a close trade partner with the U.S.,  and the fact that the country's leader has compared Trump's political strategy to those of two of history's most homicidal fascists may make for a strained relationship with a potential Trump administration.
That was something that Peña Nieto acknowledged, saying that he hoped to have a good relationship with whomever won the presidency, and "build bridges of understanding," but he was quick to remind readers that the U.S. president has not yet been determined.
Trump has said his wall could cost around $10 billion, and that Mexico should cover the bill. His supporters like that idea, so much so that at a recent rally in Florida one person dressed up in spandex as a wall. Trump has said one way he might make Mexico pay for it would be to raise the trade tariffs on products the U.S. buys from Mexico. And despite many people questioning the feasibility of building such a wall, or the possibility that Mexico would pay for it, he's defended the idea, comparing it to the Great Wall of China.
After former president Fox said he did not support Trump's wall, CNN's Wolf Blitzer asked Trump at a debate how he planned to make this wall happen.
"I will," Trump said, "And the wall just got 10 feet taller."