The Murder Charge Against an Alabama Police Officer
Officer Aaron Smith shot and killed Gregory Gunn, an unarmed black man, in Montgomery, Alabama, last week.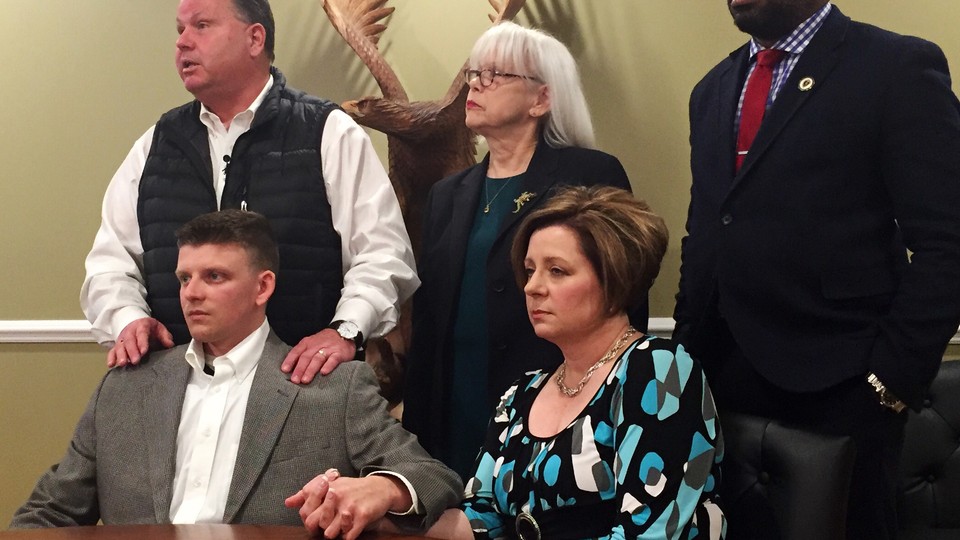 A white officer who killed a 58-year-old black man in Montgomery, Alabama, last week was arrested and charged with murder Wednesday.
Protesters had for days called for the arrest of Officer Aaron Smith, a 23-year-old who has been on the force for four years. Montgomery Police Chief Ernest Finley had initially defended Smith's actions after he shot Gregory Gunn on February 25. Gunn was walking the street at 3 a.m. when Smith stopped him, Finley said, because he looked "suspicious." Gunn then ran from Smith, he said, and threatened him with a weapon. That weapons appears to have been a retractable painter's pole—though there are doubts about that, as well.
On Wednesday afternoon, Daryl Bailey, the Montgomery County district attorney, held a news conference to say the state, which had assumed control of the investigation, had found enough evidence against Smith to bring murder charges against him. Smith was arrested, and freed on bond. A grand jury will decide whether to indict him.
The Mobile Heights neighborhood where Gunn lived, Mickey McDermott, Smith's attorney, told the Montgomery Advertiser, is a police-designated "red district" with a high crime rate. McDermott painted Smith as an eager officer who took the shift when others wouldn't.
Details of what exactly happened that morning are unclear. Smith's version of events, as well as those of neighbors and Gunn's family who heard gunshots, don't explain why the situation escalated so quickly. Bailey, the district attorney, said "most of the rumors that have been put out there about this case and the different aspects of it are untrue."
Here's what we do know to be true: Gunn had left a late-night card game with friends around 3 a.m. Within 20 minutes, he was dead.
Gunn had been headed toward his mother's house, where he lived. When Smith stopped him, Gunn reportedly ran, though it's unclear why––if indeed he did. The Advertiser reported that aside from a few traffic tickets, Gunn's only arrest had been for stealing a refrigerator more than a decade ago.
"There was no violence, no altercations with police, no signs of a dangerous man," the paper reported.
Smith's lawyers said the two men fought, and that Smith used his taser on Gunn six times.
"After all of that, Mr. Gunn picked up a weapon," Smith's lawyer said, referring to the retractable paint stick.
Gunn's brother, Kenneth, told the Advertiser that Gunn was "scared to death of police," and that "he might run from them, but he wouldn't attack one. No way."
Gunn was killed in his next-door neighbor Colvin Hinson's yard. Hinson told the Advertiser he heard Gunn banging on the door and window, screaming for help, and eventually for his mother. Scott Muhammad, who lived across the street, said he saw two men fighting, so he walked over to break it up.
"It escalated. You could just feel the energy," Muhammad told the Advertiser. "I turned around and told my wife to call the police. Then I saw him shoot four or five times and said, 'Damn, that was the police.'"
As the community waits to hear whether Smith will be indicted, protesters and some in Gunn's community demanded that white officers stop patrolling the neighborhood. Montgomery is almost 57 percent black, and in 2014 the Advertiser reported that its police department of 524 sworn officers was 43 percent black. Gunn's father was one of the first black officers on the force.
Bailey, the district attorney, said Smith "did have a choice" when he stopped Gunn. And of any escalation afterward, he said: "Why did any of that happen? That's the crux of the matter."