The U.S. Government's Warning to Courts That Jail The Poor
The U.S. Department of Justice has told local and state courts to avoid practices that hurt low-income individuals most.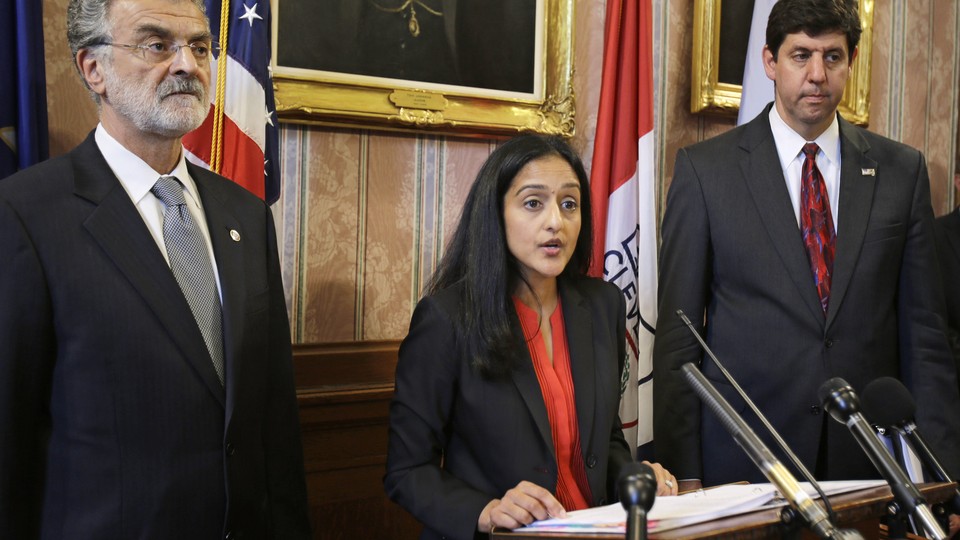 The U.S. Department of Justice has sent a rare open letter to state judges asking them to stop practices that threaten jail time for people who cannot afford to pay fines.
The letter, sent Monday, is signed by Vanita Gupta, the the top prosecutor for the Justice Department, and Lisa Foster, who runs a division focused on helping poor people gain access to legal aid. At issue in the letter is a system in which courts threaten people who haven't paid their fines––sometimes for traffic tickets, misdemeanors, or civil offenses––with jail time. Such practices, the letter said, makes courts seem as if they're not concerned with "addressing public safety, but rather toward raising revenue. " In many cases those practices can be unlawful, the letter said, and in jurisdictions that take federal money, they may also violate the Civil Rights Act when courts "unnecessarily impose disparate harm on the basis of race or national origin."
The letter listed several practices that may violate a person's due process, like jailing people because they can't pay fines; making fines a prerequisite for a judicial hearing; and using bail or bond practices that leave poor people in jail only because they can't afford to pay for their release.
The letter noted that these policies can force people into debt, land them in jail despite posing no risk to the community, and capture them "in cycles of poverty that can be nearly impossible to escape."
In 1983, the Supreme Court ruled that if someone is too poor to pay a fine, jailing them violates federal law. But Monday's letter hinted that not all courts are following that ruling.
Such a recommendation to courts from the Justice Department is rare. The last the department wrote a similar letter was in 2010, when it reminded state courts they were required, and legally obligated, to provide court interpreters to non-English speakers (that concern led to investigations in Colorado and North Carolina).
Last December, the White House held a two-day conference with prosecutors, defense attorney's, judges, and scholars, to discuss the growing trend of courts turning into moneymakers for their cities. This was also the focus of a lawsuit filed in February by the Justice Department against Ferguson, Missouri, the city where Michael Brown, an 18-year-old unarmed black man, was shot and killed by a white police officer in August 2014. In that suit, the Justice Department said officers in Ferguson used racist and discriminatory "patterns and practices" of policing that targeted black people, and where, The New York Times wrote, "investigators concluded that the city's police department and court operated not as independent bodies but as a moneymaking venture to pad Ferguson's budget."
The Justice Department has also raised concerns about jurisdictions that partner with private, for-profit companies to run their probation programs. In this type of system, the company collects a monthly payment from individuals to pay for its own services, on top of the fines they owe to the court. About a dozen states use a system like this, according to a Human Rights Watch report from 2014. The report argued that this system treats the wealthy and poor unequally, because someone who can afford to pay their fine off in a single payment will end up paying much less than a person who can't afford to do so. Probation companies make their profit from monthly charges in "supervision fees," so the longer it takes to pay off a fine, the more money the person pays the company.
Take the example of Greenwood, Mississippi, a small Delta town of 15,000. In early 2013, the Human Rights Watch report said a private company contracted to run the town's probation program. Less than a year after the program began, nearly 10 percent of the people in town owed fees to the company. The report estimated that the company collected about $21,500 in fines each month for the town, and by charging each person on probation $40 in monthly fees, the company could have pulled in $48,000 each month. It wasn't long before the town, where the average person made just $14,000 each year, dumped the program. Wayne Self, who served on the county's board of supervisors, told Human Rights Watch the company made work for itself  "off the backs of the poor people."
In Harpersville, Alabama, a judge who would ultimately shut down a similar system in his jurisdiction called it a "judicially sanctioned extortion racket."
The Justice Department's letter said that such contracts between courts and companies looking to make a profit raise "fundamental concerns about fairness and due process."
The Justice Department also said Monday it would provide four grants of $500,000 each to state, tribal, or local jurisdictions willing to restructure how they assess and collect fines, and for ideas that reduce unnecessary jail time for people too poor to pay.