The Opening of Personal Travel to Cuba
The Obama administration says it is further easing restrictions, allowing for "people-to-people educational travel."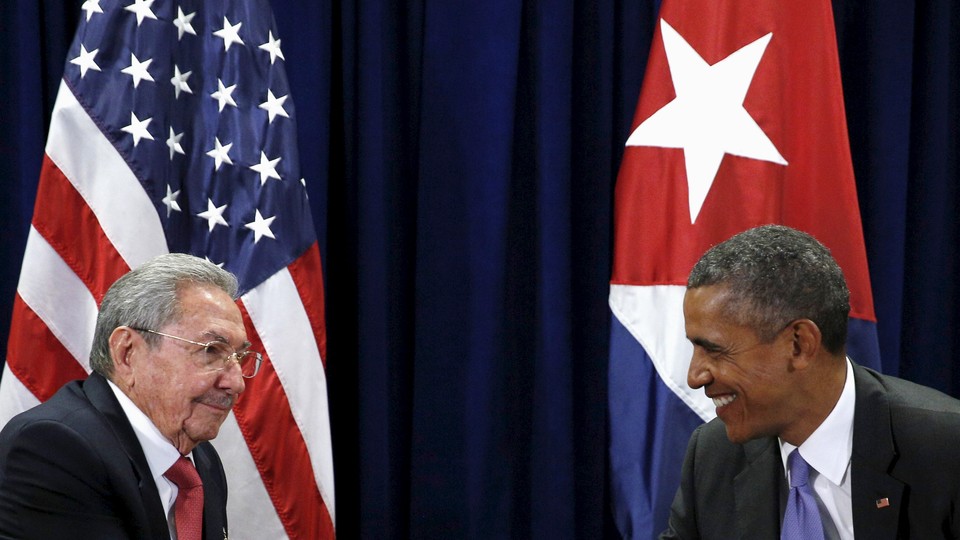 The Obama administration says it is making it easier for people to travel to Cuba, lifting limits on money travelers can spend there. The announcement, which was made Tuesday, came just days before President Obama's historic trip to Cuba.
"Today's steps build on the actions of the last 15 months as we continue to break down economic barriers, empower the Cuban people and advance their financial freedoms, and chart a new course in U.S.-Cuba relations," Jacob Lew, the U.S. treasury secretary, said in a statement.
The move is the latest announced by the U.S. after Obama and his Cuban counterpart, Raúl Castro, said in 2014 that the two Cold War-era adversaries would begin normalizing relations after more than five decades. Shortly after that, they reopened long-closed embassies, opened flights to the island from the U.S., and announced a presidential visit to Cuba, the first since 1928 when Calvin Coolidge visited.
Before Tuesday's announcement, Americans could travel to Cuba, but the trips were mostly restricted to large educational groups and journalists. Now, the new rules allow for "people-to-people educational travel," meaning that anyone with a "full-time schedule of educational exchange activities intended to enhance contact with the Cuban people, support civil society in Cuba, or promote the Cuban people's independence from Cuban authorities" can go.
Tuesday's announcement also allows Cubans working in the U.S. on visas, who were previously restricted to compensation for basic living expenses, to earn a salary. It also allows Cubans to use the U.S. dollar in financial transactions with U.S. banks, and opens the U.S. up to Cuban exports on a case-by-case basis.
Obama is scheduled to fly to Havana, the Cuban capital, in five days.
---
Related Video
Can skateboarding heal the rift between the U.S. and Cuba?