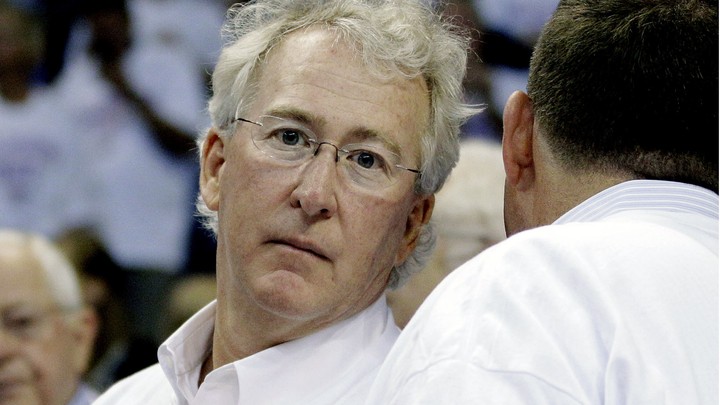 Aubrey McClendon, the former CEO of Chesapeake Energy who was charged Tuesday with rigging bids for oil and natural-gas leases, has died in a car crash in Oklahoma City, police said Wednesday. He was 56.
The crash occurred just after 9 a.m. Wednesday when McClendon's car sped into the wall of an overpass bridge.
"He pretty much drove straight into the wall,"  Captain Paco Balderrama of the Oklahoma City Police Department said at a news conference. "The information out there at the scene is that he went left of center, went through a grassy area right before colliding into the embankment. There was plenty of opportunity for him to correct and get back on the roadway, and that didn't occur."
McClendon was accused Tuesday of making deals between oil and gas companies so they wouldn't compete for bids on leases in Oklahoma. He denied the charges.
McClendon was a major proponent of fracking, a process that built his company into one of the largest sources of U.S. gas. But in the past three years, McClendon's reputation took a hit. He was forced out as Chesapeake's CEO three years ago soon after Reuters reported he'd been running a $200 million hedge fund on the side. The news agency reported McClendon traded on the same oil and gas commodities his company produced, which would have given him insider knowledge of the market. That's considered illegal in the commodities business if it is accompanied by price manipulation—an allegation made Tuesday against McClendon by the government.
"While serving as CEO of a major oil and gas company, the defendant formed and led a conspiracy to suppress prices paid to leaseholders in northwest Oklahoma," Assistant Attorney General Bill Baer of the Justice Department's Antitrust Division said in a statement.
But McClendon denied the charges.
"Anyone who knows me, my business record, and the industry in which I have worked for 35 years, knows that I could not be guilty of violating any antitrust laws," McClendon said Tuesday.
McClendon was also part owner of the Oklahoma Thunder, the NBA team.
We want to hear what you think about this article. Submit a letter to the editor or write to letters@theatlantic.com.