The Shooting at the U.S. Capitol
A gunman was shot. A female bystander received minor injuries. The Capitol Police chief described the incident as the "act of a single person."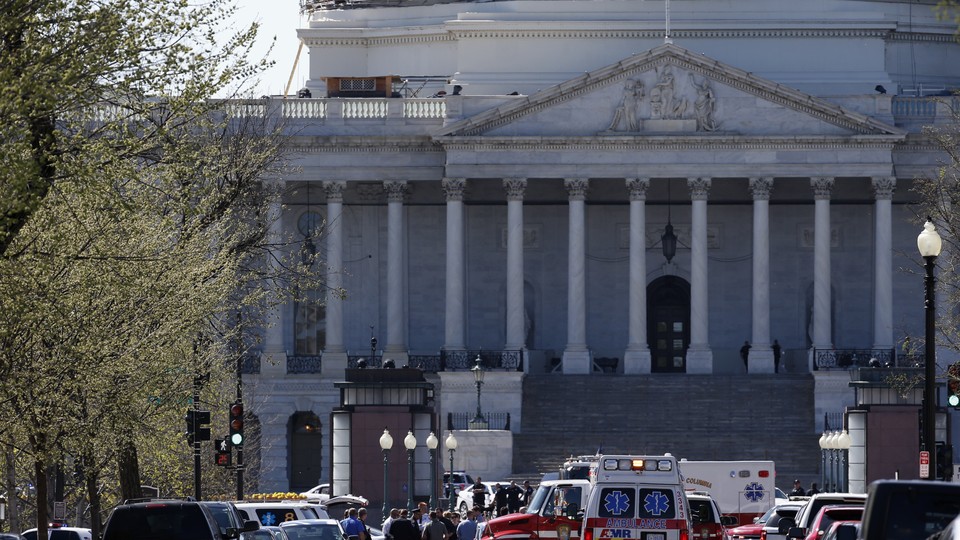 Updated on March 28 at 4:56 p.m. ET
A gunman who drew and pointed a weapon at the Capitol Visitor Center's northern screening facility was shot Monday, said Matthew R. Verderosa, the U.S. Capitol Police's chief of police, prompting a lockdown of the Capitol Complex.
Verderosa called the incident the "act of a single person … and not more than a criminal act."
The incident occurred at 2:39 p.m. ET, Verderosa said. The as-yet unidentified gunman, who the chief said was known to police through previous contact, was arrested and taken to hospital where he is undergoing surgery. His condition is unknown, Verderosa said, adding a weapon was recovered from the scene.  No charges have been filed yet, he said.
Multiple news organizations, including NBC and ABC, citing unidentified sources, named the alleged gunman as Larry Dawson of Tennessee. Dawson was previously arrested at the Capitol last October after he shouted "I'm a prophet of God" from the balcony of the U.S. House of Representatives.
A female bystander, aged between 35 and 45, received minor injuries, the chief added. No officers were injured, he said, and it's unclear how many officers fired at the gunman. News reports in the immediate aftermath of the incident suggested an officer had been shot.
Capitol Police, which is responsible for security in the Capitol complex, placed the complex on lockdown, citing a "potential security threat." Staff inside the complex were told to shelter in place. The lockdown was lifted at 3:40 p.m. A shelter-in-place issued to those inside the building was also lifted. The Capitol was open for official business only, and the Capitol Visitors Center remained closed. It will reopen Tuesday, the chief said.
A vehicle with Tennessee plates believed to belong to the gunman was found near the Capitol grounds, Verderosa said. It will be seized with a warrant, he said.
Two Capitol Police officers were shot and killed in 1998 when a gunman opened fire at the Capitol building. The Capitol Visitor Center was meant to prevent such incidents from recurring.
"It appears the screening process works the way it's supposed to," the chief said.
The incident sparked chaos in the nation's capital even though the House and Senate were on recess.
The U.S. Secret Service temporarily placed the White House on lockdown following the reports, according to reporters there. This is not unusual when there is a threat to a government building.