America by Air: Water Towers in Winter, Cont'd
Editor's Note:
This article previously appeared in a different format as part of The Atlantic's Notes section, retired in 2021.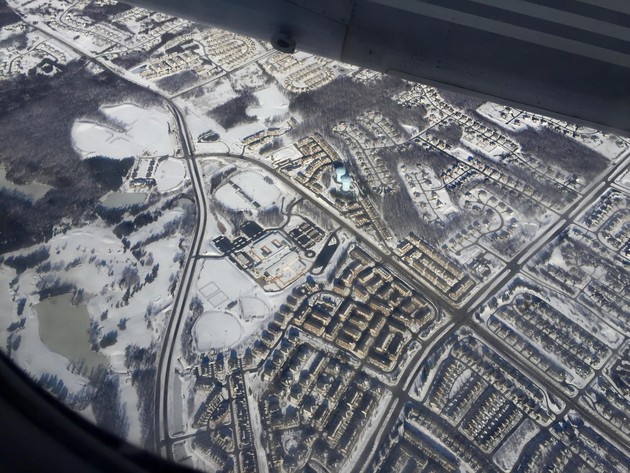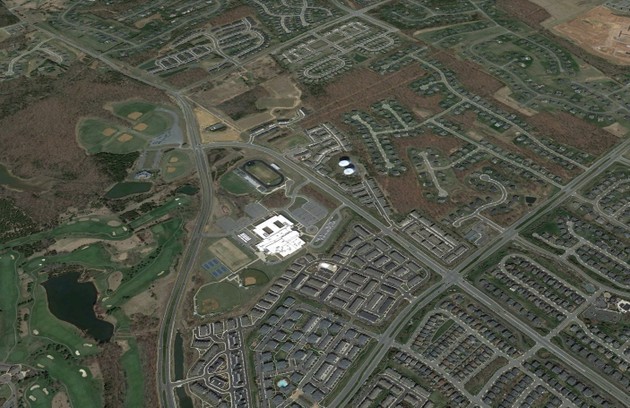 A reader figures out the location of yesterday's aerial view from Rebecca Pinkus and sends the above image from Google Earth that matches it exactly:
Howdy, Atlantic staff! Yesterday's, uh, view from an airplane window looks north, north-east over the town of Ashburn, Virginia. A best estimate is that the picture was taken at 2:42:57 PM on January 30th, at 38.9775N/77.543W from an altitude of 4,100 feet shortly after takeoff from Dulles' runway 30. The high school immediately adjacent to the water towers is Ashburn's Briar Woods High.

It's too bad your reader gave the arrival and departure cities; this location would have been slightly harder to find without them.
That email is from Doug Chini, the legendary guru of the View From Your Window Contest—a weekly feature I edited for years at The Dish, beginning in 2010 when Andrew and I were at The Atlantic. Every week we posted a photo from a reader's window and invited others to guess the location. The resulting entries I edited together were mind-boggling in their detail and precision, in addition to the local color, history, and personal stories the views solicited from readers. Chini was hands down the most accurate and consistently impressive player, so it was so cool to see him pop up in the Notes inbox this morning, out of the blue.