America by Air: California Oil Field
Editor's Note:
This article previously appeared in a different format as part of The Atlantic's Notes section, retired in 2021.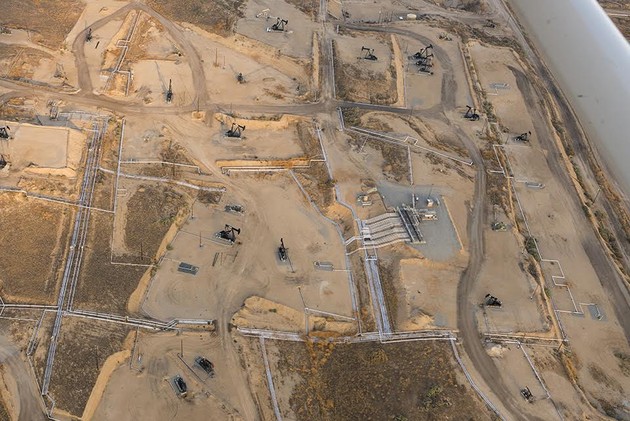 Another fantastic shot from a reader:
Located at the southern end of California's Central Valley, Bakersfield—the county seat of Kern County, which is one of the largest counties in the U.S.—is a microcosm of the economic and political issues confronting California's Central Valley. The problems start with drought and water resource mismanagement but also continue to other issues ranging from urbanization of prime farmland, salinization of prime farmland, air pollution (this area is consistently in the top ten areas with the worst air quality in the U.S. as rated by the American Lung Association), and poverty.

I've been working on a photo study of the area, and because of the size of the county (8200 square miles), I took to the air, specifically in a Cessna 172 with the passenger-side window removed for photography. This photo is a view of the massive Chevron oilfield north of Bakersfield called Oildale. At the time of the shot, October 2015, the field was nearly in full production, driven by the price of crude oil that was hovering around $50 per barrel.