America by Air: A Mystery in the West ... Solved
Editor's Note:
This article previously appeared in a different format as part of The Atlantic's Notes section, retired in 2021.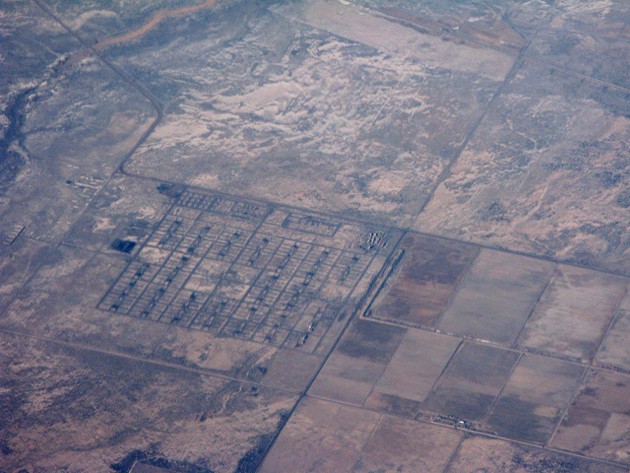 Over the weekend I posted the above photo from a reader, Eric Zimmerman, who had stumped his family and friends over the location of this remote area in the western U.S. Many readers wrote in with their own guesses. "Looks like a photovoltaic [solar] farm in the area of Alamosa, Colorado," says Joe. Nope, but here's a stunning image of a solar farm in Pfeffenhausen, Germany, a satellite image I just came across in an amazing Instagram account from Anthony Quigley (which we'll be using for many Orbital Views). Another reader, Dan:
It's a chemical warfare chemical depot. There are ones in Nevada, Utah, and Oregon, that I know of.  My guess is this is in Oregon, since it doesn't look like the ones I know of in Nevada or Utah.
Other guesses from readers include:
"It's a server farm"
"Greenhouses"
"Farm worker housing"
"Looks like ammunition magazines/storage bunkers"
But the answer is something far more specific—and disturbing. Here's reader Steve Karwan:
Topaz Internment Camp Site near Delta, Utah, with coordinates of 39.411485, -112.773676. My initial guess was Manzanar. After quickly ruling that out, I then began searching for other former Japanese internment sites.

(BTW, I'm a former frequent player of the Dish's View Form Your Window contest. I guessed about five or seven correctly, but never as specifically as the winner. I'm very much a Chini-wannabe! )
Another reader sends a link to Google Maps with a "dropped pin near Millard County, UT":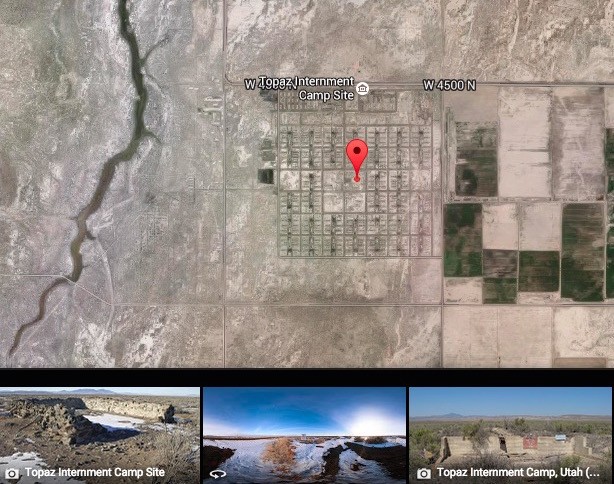 By the way, I just came across a strange coincidence, given that several readers thought this was a solar farm: Type "solar farm" in Google and the third hit is the Wikipedia page for Topaz Solar Farm in southern California. Topaz.
Doug Chini—the legendary champion of the window contest mentioned by Steve—emailed his answer just before I posted:
In all the years of doing the Daily Dish's VFYW contest, I never got more of a gut punch from finding a location than I did with this one. At first I thought we were looking at an agricultural site, or perhaps an old Army barracks; but as someone whose college thesis focused on the Pacific in WW2, I should have recognized it instantly. Your reader's mystery view shows the ghostly footprint of the Topaz "War Relocation Center," one of ten major sites where Japanese-Americans were forcibly interned during the war. Here's the view from Google Earth:

Among the more than 11,000 held there was Fred Korematsu, the plaintiff who lost the infamous Supreme Court case that legitimized the internment program. Today the decision in that case, Korematsu v. United States, is used in law school as an example of how hysteria and deference during crises can produce abhorrent results.