America by Air: Tiger Mountain Rainbow
Editor's Note:
This article previously appeared in a different format as part of The Atlantic's Notes section, retired in 2021.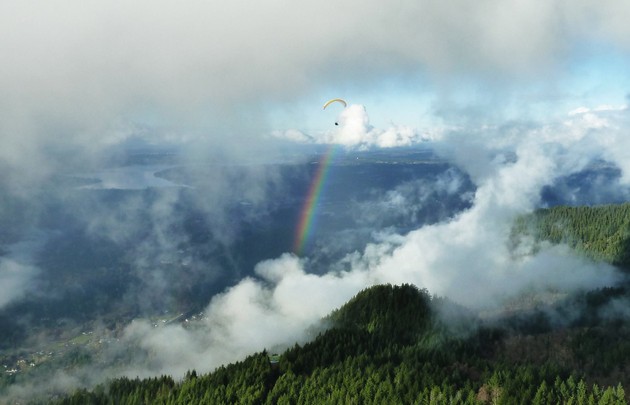 Matthew Amend of Seattle, with whom I have corresponded about piloting issues for years, sends this photo. Here's his explanation:
I just found your series. It's great! As an 18-year paraglider pilot, I may be biased, but I firmly maintain that the best, most unobstructed way to view America by air is by dangling beneath a big kite!

Here's my submission (of me, not taken by me—taken by Matty Senior). I'm taking a friend for a ride in my two seat ("tandem") paraglider above Tiger mountain in Issaquah, WA. January 2015. Perfectly backed by a rainbow and low cumulus clouds with lake Sammammish in the distance. No Photoshop; that's straight from the camera.

Have a look at the USHPA [U.S. Hang Gliding and Paragliding Association] photo gallery here. Aerial photos by my friend Jody MacDonald are particularly epic.