America by Air: Seaplanes Over Seattle
Editor's Note:
This article previously appeared in a different format as part of The Atlantic's Notes section, retired in 2021.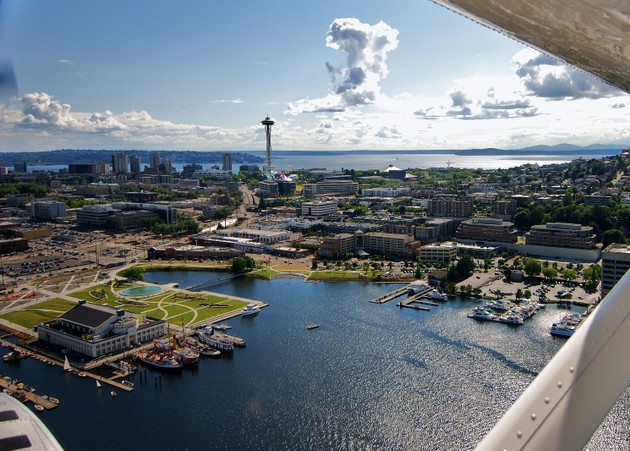 Yesterday Stu Smith, who flies as a seasonal pilot for Kenmore Air in the Seattle area, shared a wonderful photo of a circular rainbow.
I'm very familiar with and fond of Kenmore Air, and not simply because my wife Deb and I took some of their seaplane flights for travel around the Puget Sound area when we lived in Seattle in 1999 and 2000. It's also because I took seaplane-flying lessons there from Smith's Kenmore colleague, Chris Jacob.
Because they fly so low-and-slow, and because they often land on lakes, bays, and shorelines right near cities, seaplanes generally offer a particularly striking version of the aerial view. In his note, Stu explains what we are seeing above:
I've flown for Kenmore for a dozen seasons in DeHavil and Beavers and Turbine Otters, all on floats. All of our flying is single-pilot, and
the company is certified to carry passengers in the copilot's seat. I
often receive photos taken by passengers who are kind enough to share, since I tend to be occupied at the controls. Most of our flying is
low-level, typically below 5,000 feet above the ground. This is an
ideal height to see detail on the ground as well as a distant, synoptic view.

The photo above was taken by a passenger (name lost to history) sitting in the copilot's seat.  We're flying in a Beaver on a scenic flight, southbound over Seattle's Lake Union. Lake Union is freshwater, and is our primary takeoff and landing site. The seaplane dock, where Kenmore's passengers embark and disembark, is just to the right of photo center (at the moment unoccupied).

Downtown is out of sight to the photo's left, about a mile or so off our nose. Beyond the Space Needle to the southwest is Elliot Bay and then Admiralty Inlet, which are saltwater and part of Puget Sound. The plane's right front float is just visible in the lower-left portion of the image.