America by Air: New York at Dawn
Editor's Note:
This article previously appeared in a different format as part of The Atlantic's Notes section, retired in 2021.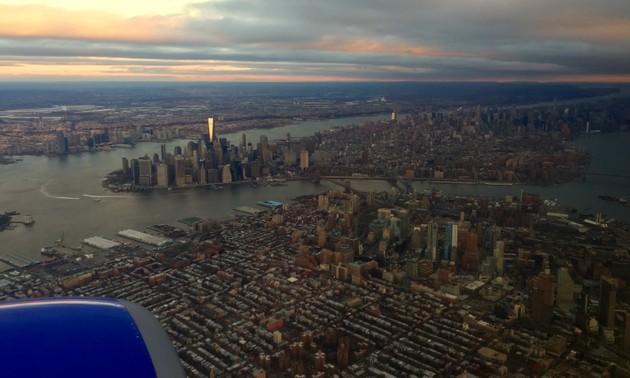 It's a view of optimism for this reader:
As an economics student with a passion for amateur photography, I've been thrilled with this unique supplement to James Fallows's excellent work on the resilience and diligence of the American people!

I took this early-morning photo of Manhattan as we made our crescent descent into LaGuardia this past January. The interplay between the dark clouds and the morning glow reflected the state of my emotions at the time. I made the trip to the city for two reasons: Firstly, I needed an expedited visa in order to return to the UK for my yearlong study abroad, and secondly, a friend and I were to begin a pre-semester international journey from JFK a day later. Obtaining the visa was essential, and as life would have it, I was desperately falling for this particular friend (whom I had not seen in person for over six months). Looking out the left-side window at the glimmering One World Trade Center, it was impossible not to project my hopes and fears onto "the concrete jungle where dreams are made of." From the air, at least, the city and its background seemed to perfectly reflect the issues swirling in my head.

As I type this note from the English countryside months later, I'm relieved and elated to report that I got the visa—and the girl.