America by Air: Downtown Seattle
Editor's Note:
This article previously appeared in a different format as part of The Atlantic's Notes section, retired in 2021.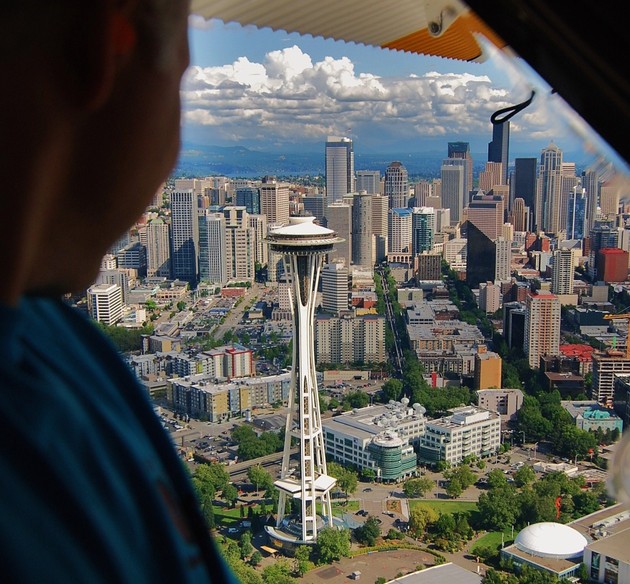 Seattle looms large in all things aviation-related, due mainly to the presence of Boeing. It looms large in my own aviation-related life, since I got my instrument rating while living there in 1999, training with instructor Chris Baker of Wings Aloft at Boeing Field in downtown Seattle; and then in 2000 did seaplane training with instructor Chris Jacob of Kenmore Air, which flies floatplanes out of the local lakes, bays, and inlets.
It also looms large in recent photos in this series. Here is another one via Stu Smith, a colleague of Chris Jacob's at Kenmore:
This photo was taken by a passenger (I don't recall the name) in a Beaver [JF note: a very popular floatplane] looking to the southeast.  If not for the clouds, Washington State's iconic Mt. Rainier would be visible on the distant horizon.

When the wind dictates a south departure from Lake Union (as it did in this flight), the climbout takes us past the Space Needle. It's a pretty spectacular departure, which I've yet to tire of after 12 seasons. When the wind shifts to the north, the arrival and landing direction is reversed, taking us past the Space Needle in a descent. I think that tourists looking out from the Space Needle enjoy watching our departures and arrivals as much as the passengers on the plane enjoy watching them watching us!
I got to fly this route sometimes when doing training. It's reason enough to do pilot training, or at least to take a sightseeing flight.