America By Air: Clear Skies on the West Coast
Editor's Note:
This article previously appeared in a different format as part of The Atlantic's Notes section, retired in 2021.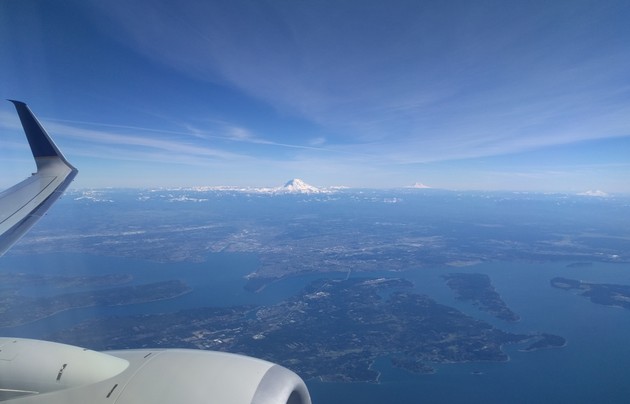 It's overcast today in Seattle, where my wife Deb and I have come for the annual Citizens University conference — an inspiring gathering of civic-engagement activists from around the country. But two days ago skies were clear along the West Coast. That is when reader (and son) Tom Fallows of San Francisco took pictures as he left Seattle, above, and came into San Francisco, below.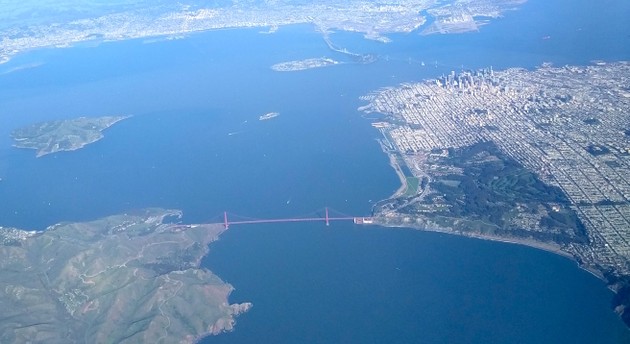 No comment needed, beyond remarking that this is a beautiful part of a beautiful country (and world).
After the jump, a reaction from another reader, involving the theme of fathers and sons and the view from above.
***
A reader in Southern California reacts to a post from a former flight instructor who said how much he loved the low-altitude view. Emphasis added — I have flown through this same area and can picture the scene he describes:
Similar memories of flying in the Riverside, CA and surrounding areas a long time ago.

Loved flying at lower altitudes; had the feeling of flying through a valley, rather than over it.  Especially in the morning air, when it was smooth - magical, indescribable feeling.  Following the Santa Ana River to the beach, south along the coast, and back over the hills to RAL [Riverside Municipal] was also a favorite. [JF note: I have flown this same route, from the airports in Redlands and San Bernardino toward those on the coast. It is magical, though usually with enough other airborne traffic that you can spend too much time just taking in the view.]

Would absolutely love to get back into it again, but my wife is fearful.  I'm scheming tho'.  We have a boy on the way… That boy is going to experience small aircraft flight early in his life (I'll take him while mommy is at work).  He'll be addicted and it will be two against one!