America by Air: Abandoned Army Depot
Editor's Note:
This article previously appeared in a different format as part of The Atlantic's Notes section, retired in 2021.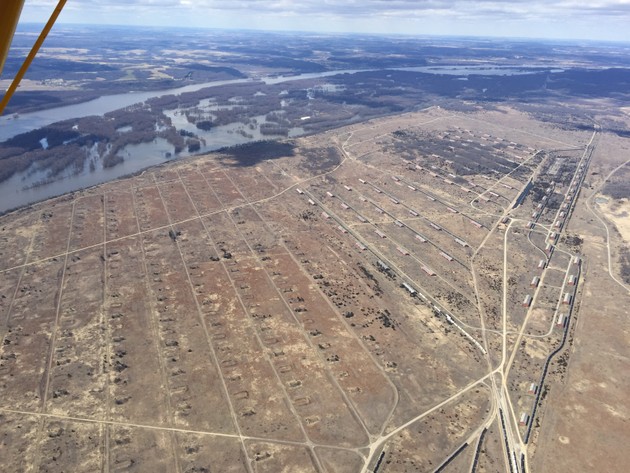 Another fascinating view from a reader:
This picture is looking down at the former Savanna Army Depot just South of Hanover, Illinois, this weekend. The Mississippi River is in the background. Large sections are now being used for temporary storage of rail cars, but you can see the remains of roads that were once lined by ammunition bunkers.
More details from KWQC, a local news station:
The U.S. Army began work there in 1917 with military weapons testing and the grounds boomed to life. During World War II it was the largest Army depot in the county. Over the years it was also used to store, manufacture and recycle munitions.

Later, it was listed for BRAC closure and the depot officially shut its doors in 2000. Today, much of the property is out-of-bounds due to environmental contaminants. The areas that are off-limits to the public today are surrounded by tall fences and posted with signs that say restricted. However, you can still get pretty close enough to see many of the old buildings.
Especially if you're in a small plane. But the area isn't entirely abandoned:
"It might look like a ghost town, but that's because you can't see the activity," said Alan Anderson, a Wildlife Refuge Operation Specialist with the U.S. Fish and Wildlife Service. There is some work happening with the railroad and efforts to redevelop the area, but Anderson works there for a different reason. "The U.S. Fish and Wildlife Service has been developing a National Wildlife Refuge here for actually 20 years," he said.

The Army has transferred over about 10,000 acres that's now called the Lost Mound Unit. Only part of it is open to visitors. "The work the military did disturbed some of the habitat that's out here but it also preserved some of the habitat that's out here," added Anderson.