America by Air: A Rainbow Halo
Editor's Note:
This article previously appeared in a different format as part of The Atlantic's Notes section, retired in 2021.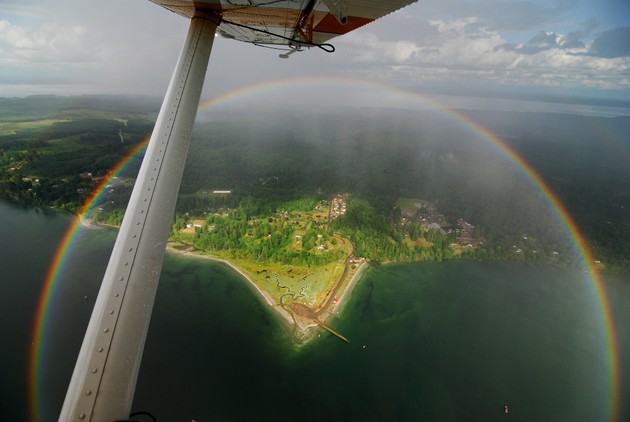 Stu Smith, a reader who works as a seasonal commercial seaplane pilot for Seattle's Kenmore Air, passes along a real beauty:
This photo was taken from the copilot's seat by my friend Marshall Collins, who is a flight instructor at Clover Park Technical College (where I received my training and was also a flight instructor).  This was a scheduled flight in a Beaver from Seattle to Victoria, British Columbia. We were about a third of the way into the 70 mile-long, northwest-bound flight when the circular rainbow appeared below us.  If Marshall had had a wider-angle lens, he would have caught the entire circle.  

At the time of the photo we were over the small village of Port Gamble, Washington, which had a long history as a timber and sawmill town. We're looking to the northeast, with Point Julia in the foreground, the Kitsap Peninsula in the middle distance and Admiralty Inlet in the far distance. Marshall was riding along as my guest, since there was an unsold seat on this flight and he was available to join me.  

I've had the good fortune of seeing several circular rainbows over the years. Phil Plait had a great article about them in Slate several years ago.