Why the Officer Who Killed Quintonio LeGrier Is Suing Him
A Chicago cop who shot the 19-year-old seeks $10 million in damages in a countersuit filed against the man's family.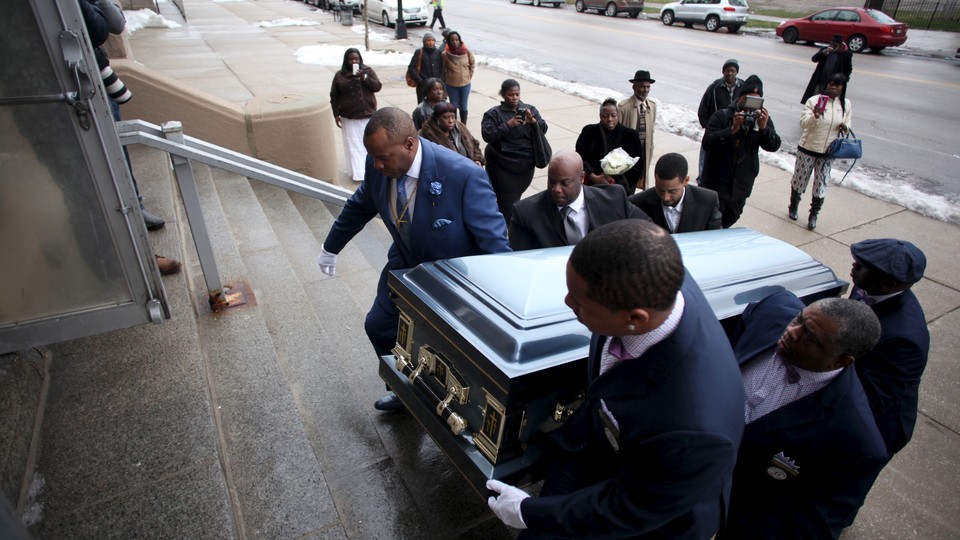 In a country where police are rarely prosecuted for killing civilians, and where those who are prosecuted are rarely convicted, civil lawsuits filed by victims of police violence and their families have become perhaps the foremost tool for law-enforcement accountability. The wrongful-death suit is a familiar step in the all-too-common story arc.
But something stranger is happening in Chicago: The police officer is suing the estate of his victim.
On December 26, Chicago police officers responded to a domestic-disturbance call. According to police, 19-year-old Quintonio LeGrier was threatening his father and wielding a baseball bat. During the response, Officer Robert Rialmo shot and killed LeGrier as well as Bettie Jones, a mother of five and downstairs neighbor.
The death came amid heated protests in Chicago over excessive use of force by police—most prominently the killing, caught on video, of Laquan McDonald by Officer Jason Van Dyke. Critics, including LeGrier's mother, complained that police had been too quick to use deadly force rather than less-lethal alternatives, and too quick to use force rather than de-escalating the situation. LeGrier's mother, in fact, said the police never should have been called. The killing of Bettie Jones, an innocent bystander whom Quintonio LeGrier's father Antonio had asked to let police in the door, added more horror to the situation.
Shortly after the shooting, Antonio LeGrier filed a suit against the city for wrongful death, wrongful arrest, excessive use of force, and not providing prompt medical attention to his son. It's unclear how much LeGrier is seeking in damages; the lawsuit specifies only more than $50,000. On Friday, Rialmo countersued, asking for more than $10 million from LeGrier's estate for assault and infliction of emotional distress.
"LeGrier knew his actions toward Officer Rialmo were extreme and outrageous, and that his conduct was atrocious, and utterly intolerable in a civilized community," the complaint states. It goes on to say that by "forc[ing] Officer Rialmo to end LeGrier's life" and Jones's innocent life as well, caused "Rialmo to suffer extreme emotional trauma."
Counterclaims to civil lawsuits are not themselves rare; in some states, they're even compulsory. "Most astute lawyers would encourage a client to file a counterclaim" in a civil suit, said Michael Kaufman, associate dean for academic affairs at Loyola University Chicago School of Law. But a police officer suing someone he's killed does seem to be unusual, as does the language used in the suit, as his lawyer acknowledged to The New York Times.
"There is no question that he suffered very extreme emotional trauma and stress as a result of what Quintonio LeGrier did," said Joel Brodsky. "When I say he feels extremely horrible about her death, that's an understatement. But the bottom line is that it was Quintonio LeGrier who forced him to shoot."
The LeGrier family's lawyer blasted the countersuit, calling it "nonsense," "pure fantasy," and "a new low for the Chicago Police Department."
The countersuit does provide the most detailed explanation of the December 26 shooting yet made public. Official investigations are ongoing, although the victims' families have said they have little confidence in the process—not surprising, given Chicago and Cook County authorities' handling of the McDonald case, among others.
The suit alleges that shortly after the officer arrived on the scene, LeGrier "took a full swing at Officer Rialmo's head, missing it by inches, but getting close enough for Officer Rialmo to feel the movement of air as the bat passed in front of his face." It alleges that Rialmo retreated down steps from the second-floor porch, instructing LeGrier to drop the bat. At the bottom of the steps, "Officer Rialmo reasonably believed that if he did not use deadly force against LeGrier, that LeGrier would kill him," and so he fired eight shots, striking both LeGrier and Jones, whom Rialmo says he did not see.
Rialmo is white; LeGrier and Jones were both black. Rialmo has been placed on desk duty.
It's tough to compare the legal prospects for Rialmo's suit to those of the LeGrier family's original claim. Kaufman said the language in Rialmo's suit—"atrocious," "utterly intolerable in a civilized community"—seemed uncommon, and unusually strident for a suit. They could put off a judge or jury, or create conflict with the plaintiff's lawyers, he said.
And whatever the legal implications, the lawsuit seems like a bad public-relations strategy. Whatever the merits of Rialmo's case, blaming a mentally troubled young man he shot is unlikely to win him many defenders, and social media lit up with shock at the suit. Moreover, one of the most common defenses of police accused of using excessive force is that officers are willing to put themselves in the line of fire on the job. That kind of stress, they say, explains and justifies why police sometimes make regrettable decisions. It's true that police officers take special risks, but demanding $10 million from the family of a college student killed by police bullet goes a long way to leveling the moral high ground.