The Economics of Allowing Undocumented Immigrants to Work
A new report looks at the potential benefits of President Obama's plan to allow the undocumented parents of U.S. citizens to stay and work legally in the country.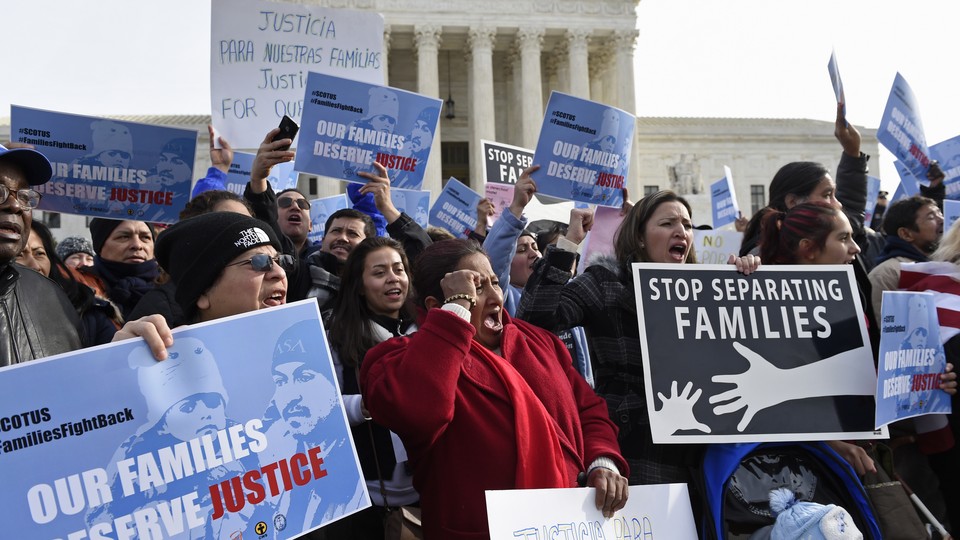 If the more than 3.6 million undocumented adults with children who are U.S. citizens were legally allowed to work––as they would be under President Obama's plan the U.S. Supreme Court will soon hear––it would raise the income of those families by 10 percent. It would lift 6 percent of them out of poverty. And it could improve the lives of their 4.3 million children.
Those are some of the findings of a new report by the Migration Policy Institute and the Urban Institute. The report looked at the changes that freedom from deportation and a legal job would make for undocumented parents (or a parent), with at least one child who is a U.S. citizen.
Obama announced the Deferred Action for Parents of American and Lawful Permanent Residents (DAPA), in 2014. The executive action would have prioritized whom the government deports, giving a pass to parents of U.S. citizens, and also allowed them temporary work permits. Within hours of the announcement, Republican vowed to shut it down. Twenty-six states challenged DAPA, and Texas brought a federal suit.
Texas' argument––in part––says DAPA creates an unjust burden because it would force the state to issue and process driver's licenses for the formerly undocumented. The Texas federal court ordered DAPA stopped. The U.S. 5th Circuit Court of Appeals allowed the injunction, and last January the U.S. Supreme Court said it would review the decision.
It's a mystery what will happen at the Supreme Court because of Justice Antonin Scalia's death. A split decision would affirm the injunction. Or the court could decide to put off a decision until Scalia has a replacement. But if DAPA passed––the hypothetical part of the report, which was released this week––it would certainly mean a significant lifestyle change for those 3.6 million parents, as well as the 7 million others who live with them, according to the report.
About 85 percent of all children with a DAPA-eligible parent are U.S. citizens, and one of the stronger arguments for DAPA is that deporting parents could hurt the futures of millions of these minors.
Nearly all of DAPA-eligible fathers, and half of the mothers, work. Mothers are far less likely to be deported than fathers, so when a child's parent is deported, the family takes a financial hit. A 2010 report looked at 190 children of recently deported parents and found families lost 70 percent of their income in the following six months after deportation. That often led to loss of housing, lack of food, changes in the children's behavior. And to replace lost income, mothers often look for a job, which creates longer-term pressures on the children.
DAPA-eligible fathers earned about $30,000, whereas a similar immigrant parent with green card makes $40,000. After controlling for factors like age, education, and marital status, the report found DAPA-eligible mothers would earn 7 percent more than they do now, and a father's wage would double that, lifting 6 percent of families above the federal poverty line. With 1.8 million families with a parent eligible for DAPA, that could mean 100,000 families out of poverty.
But if someone moves up on the scale, argues Ira Mehlman, spokesman for the Federation For American Immigration Reform, then an already-legal worker moves down. Mehlman takes issue not with the numbers in the report, but with the logic its numbers support.
If it's wrong to break up families, and right to help the undocumented parents of U.S. citizens, then Mehlman said you've rewarded the illegal decisions the parents made in the first place. Yes, he said, "they're the parents of American citizens. But they have willfully violated the law to create this situation."
The MPI report also cites measurable psychological benefits to passing DAPA: relief from stress of impending deportation, of wage-theft, and sub-minimum  pay, as well as an almost total inability to complain about your condition.
"Taken together," the report's authors wrote, "the effects of parental unauthorized status have implications for child health and development from infancy to adulthood."