The Mystery of Amtrak 188
The NTSB's report on the May 2015 crash in Philadelphia does little to explain why the train was traveling faster than the posted speed before it derailed.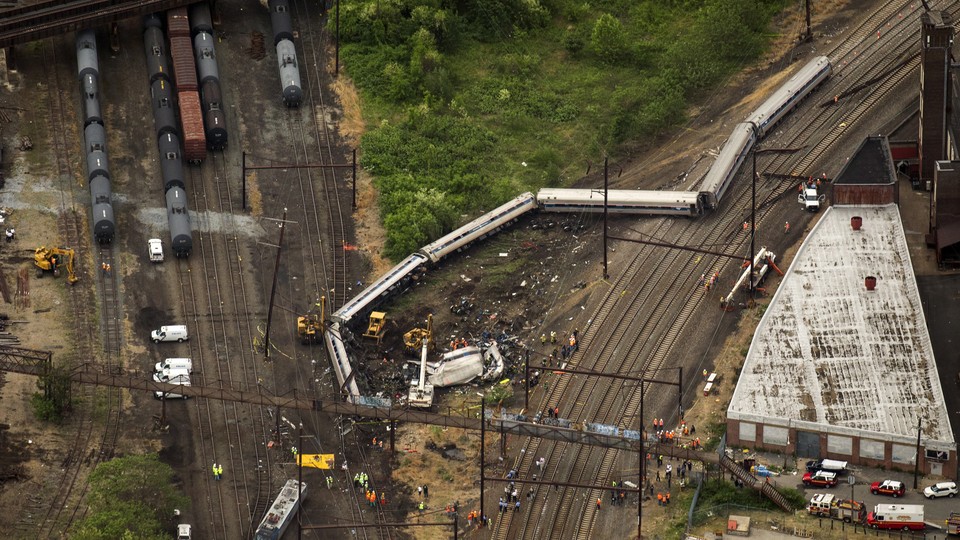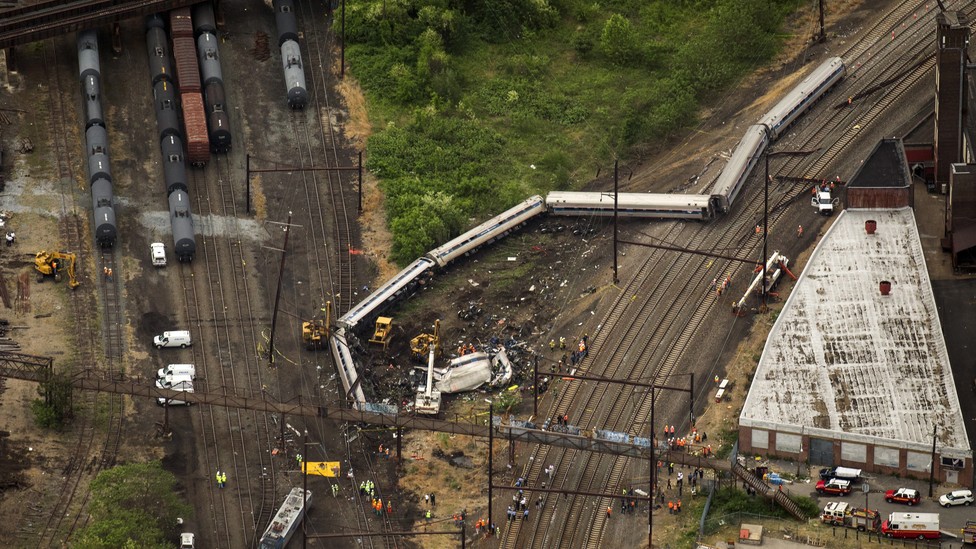 What happened on May 12, 2015, when Amtrak 188 derailed in Philadelphia?
A tranche of documents released by the National Transportation Safety Board offer less clarity that what victims and their families, anxious riders, and curious railfans might want to know. In some ways, the answer appears simple: The train was going too fast headed into a curve, and it came off the rails. But that much was clear soon after the accident, which killed eight and injured 200. In many ways, the huge stock of documents doesn't bring anyone closer to understanding what happened.
There doesn't appear to be any evidence that Amtrak 188 was hit by rocks or bullets, though it passed a regional commuter train that had been rocked. Engineer Brandon Bostian tested negative for drugs and alcohol. He wasn't using his phone at the time of the accident—in fact, it was apparently in a bag, turned off and on airplane mode, until after the derailment. Bostian has no medical history that would have suggested problems. While he had to shorten his break between a trip to Washington, D.C., and the fateful return trip to New York on the day of the accident, he said he felt good.
Even before these documents, Bostian had emerged as a sort of tragic figure: A man who had always wanted to be an engineer, who lived trains, yet had driven his train off the rails in one of the worst rail accidents in American memory. (Matthew Shaer's New York Times Magazine story from this weekend is required reading.) It's the two interviews with Bostian that stick out from the documents released Monday. They represent the first time the public has been able to hear his thoughts on the crash. The interviews were taken on May 15, three days after the crash, and again in November.
Bostian initially told the NTSB he had no memory from a few minutes before the crash until after it had happened. (His lawyer said so publicly as well.) By the second interview, Bostian—who had been concussed in the wreck—remembered a few more details but still not the complete sequence.
On the track ahead of the site, there's a straightaway where a train of the type Bostian was driving can go up to 80 miles per hour, before decreasing significantly for the sharp turn where he derailed. Here he narrates what happened:
The memory I think I may have from that night was that I came out of the 65 mile an hour curve. I pushed the throttle forward to accelerate my train. And as I approached 70 miles an hour, I have a memory that I backed off the throttle by mistake because I was targeting 70 miles an hour instead of 80 miles an hour. And as I approached 70 miles an hour, I have a memory that I took action to bring the train up to 70 miles an hour. And I have a memory that I realized my mistake, that I should have been operating at 80 miles an hour. And that I pushed the throttle forward in order to accelerate from 70 to 80.
Instead of braking after that as the curve approached, however, the locomotive data recorder shows the train just kept accelerating. "I don't remember anything from that point until after the train was already in the curve," Bostian said, describing everything from there until he started braking as "dream-like."
If that sort of detail sounds dry, it's among the more gripping material in the tranche, most of which is technical data. Investigators also quizzed Bostian about his training, his sleep habits, his daily schedule, and even how he got to work. There's one small portion in one interview that is off the record, for unexplained reasons.
Bostian said the locomotive had engine problems, but nothing significant. ("All of our engines have minor issues.") He complained of wind noise from one window, but nothing serious. One theory shortly after the crash was that Bostian may have been distracted by rocks or bullets. A SEPTA train had been hit with a rock, apparently badly, that night, with its windshield shattered. Bostian passed the train, which had come to a stop, and blew his whistle hard, but when NTSB investigators asked him whether he was worried—practically invited him to blame it for the wreck—Bostian largely demurred:
Q. Okay. Do you recall being concerned for your own safety?

A. I was a little bit concerned for my safety. There's been so many times where I've had reports of rocks that I haven't seen anything, that I felt like it was unlikely that it would impact me. And I was really concerned for the SEPTA engineer. I had a co-worker in Oakland that had glass impact in his eye from hitting a tractor-trailer and I know how terrible that is.

Q. Okay. So you were concerned for SEPTA. I'm sorry, were you concerned for yourself, that this may also happen, possibly?

A. Slightly. But I figured there's a good chance that they left. Whoever was throwing rocks and shooting probably had left. I wasn't, you know, super concerned, I don't think.  
In a strange echo, an Amtrak Acela passing through Philadelphia was struck by an object that shattered its window Monday.
There were further questions in the transcript about visibility on the curve, or about posted speed limits. Bostian said the curve was tough to see but he had visual cues he used. They asked him if there were posted limits, and he said there were some, but they were often missing and not necessarily relevant: For example, they might state 70 mph some train types, but 80 mph for the prototype B train he was driving. Throughout the interviews, Bostian took pains to note he couldn't be sure about his memory. He said he felt comfortable with both the train he was driving and the route, though he'd been on the specific duty for only a few weeks. He briefly criticized the training process for engineers, but added, "I feel fully qualified to operate trains."
It's a judgment that other crew members on the train shared. "[He] is great. He knows his job. He's there on time for the briefing. He answers any questions we have," one assistant conductor told investigators. "I've never seen him do anything that he wasn't supposed to do .… He was a very good engineer." The main conductor concurred: "On top of his game. Knowledgeable. Always knew the answers. Very knowledgeable of the territory."
Those testimonies, as well as the rest of the information in the NTSB docket, make Bostian's apparent error all the more baffling. The engineer seems to have been qualified, feeling good, using good equipment, and not distracted. He was in good health, and he knew what he was doing. He was, as a friend told Matthew Shaer, exactly who you would want driving your train. There's simply no good or clear reason why Bostian would have kept speeding up, and yet there's the simple, unavoidable truth that he did, with fatal consequences.