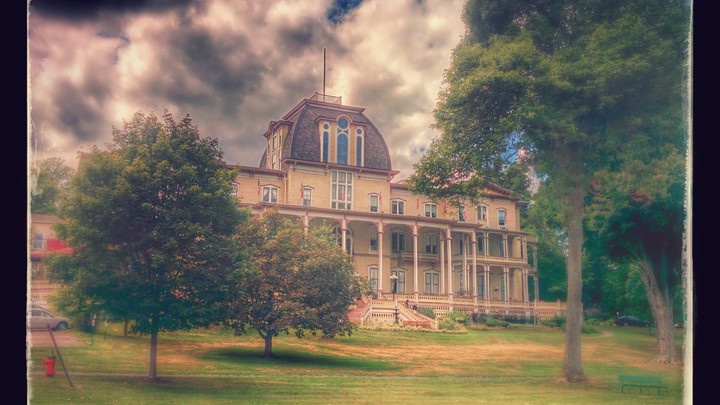 In the new March, 2016 issue of The Atlantic, Deb Fallows and I have articles about what we've seen in the past few years of "American Futures" travel and reporting across the country. Hers is here; mine is here; and a video of the two of us in Mississippi, plus other info, is here.
Last summer, in a session at the Chautauqua Institution, we gave a preview of the findings. Chautauqua is indeed one of the great institutions in American civic, cultural, and intellectual history—it's only 17 years younger than the Atlantic itself!  — and we were glad and honored to be part of their presentation. The official video of the talk is below.  
***
After the talk, we went to another great New York institution, the Southern Tier Brewing company in nearby Lakewood.  A theme of this article is that the presence of craft breweries is a jokey-seeming but real indicator of entrepreneurial activity. Here we are confirming that view, with Matt Ewalt and Jordan Steves of the Chautauqua staff.
We want to hear what you think about this article. Submit a letter to the editor or write to letters@theatlantic.com.
James Fallows
is a staff writer at
The Atlantic
and has written for the magazine since the late 1970s. He has reported extensively from outside the United States and once worked as President Jimmy Carter's chief speechwriter. He and his wife,
Deborah Fallows
, are the authors of the 2018 book
Our Towns: A 100,000-Mile Journey Into the Heart of America
, which was a national best seller and is the basis of a forthcoming HBO documentary.