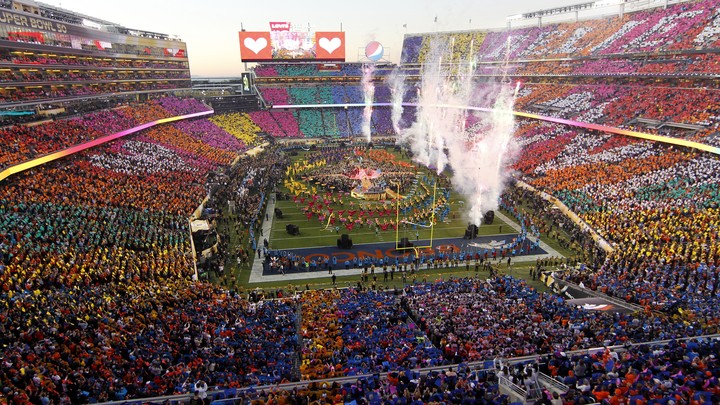 Super Bowl 50 is over. The Denver Broncos won 24-10 and the commercials, were—well a lot of people still aren't sure how they feel about them.
If you tuned in to watch the game, then you know it was a clumsy, monotonous affair that saw both offenses forced into punting, then punting again.
After the game, Peyton Manning, the 39-year-old Broncos quarterback, was asked if he'd retire. "I don't know the answer to that," he responded (though his mother later said he should). Then Manning plugged Budweiser; the company said it was "delighted" by the endorsement, but hadn't paid Manning for the promotion.
At a post-game press conference, a sullen Carolina Panther's quarterback, Cam Newton, answered two minutes of questions with his hoodie pulled to his brow. Then he he told reporters, "I don't know what you want me to say, I'm sorry." He stood and abruptly left. The New York Times described it thusly: "It was as if Newton was intent on taking his magical season, his jumping jacks and dabs and evident leadership, and poking a hole in his side. He let his charisma and leadership drain away, to be replaced by a soup of the sour and the petulant."
As for the commercials, if you like babies, talking animals, or Jeff Goldblum, you likely came away happy. Writing in The Atlantic, my colleague Sophie Gilbert bemoaned the offerings.
If anything, the 2016 Super Bowl ads, in all their greying, hyper-consumptive glory, might be both symptom and cause of the Donald Trump ascendancy, in which Marco Rubio and Madison Avenue alike try desperately to woo disillusioned Boomers while also proving they're hip enough to capture the youth vote. (Case in point: Jeff Goldblum, playing piano in a winch on the side of the building, then running smack into Lil Wayne and George Washington having a cookout).
Still, the Internet is spilling over with best and worst lists, which at $5million for 30 seconds of air time set a record. Doritos caught flak for its spot in which a fetus leaps out of its mother's womb to chase a cheesy chip.
USA Today's rated the commercials in its annual Ad Meter feature. The winner: Hyundai's "First Date" commercial.  Heinz's "Wiener Stampede" and Audi's "Commander" also scored high. One ad that topped lists—and scared viewers— was Mountain Dew's "Puppymonkeybaby."
Many people, including children's horror author R.L. Stine, will be scarred. "Did #Puppymonkeybaby come from a horror movie? It terrified me," Stine tweeted.
To which, Mountain Dew responded, "@RL_Stine You terrified us first. #puppymonkeybaby"
As for the halftime entertainment, though Coldplay headlined, Beyoncé's performance prompted some to ask, "Coldplay? What's a Coldplay" The internet declared her the winner (though BuzzFeed was in denial).
On Saturday, she had released a new music video, called "Formation." Her performance featured a Black Panther-inspired rendition of the new song, an apparent nod to the Black Lives Matter movement. My colleague Spencer Kornhaber called her performance "radical."
Both Beyoncé and Bruno wore black. They dressed the same as the people they stood shoulder to shoulder with. And then, before being interrupted by a strange retrospective video about past halftimes, they offered a reminder that synchronized dancing can be the best kind of spectacle there is—better than Left Shark, better than a middle finger to the camera, better than a crotch slide from Springsteen. There was no racial subtext to this, just text. Mars's crew was B-boying. Beyoncé's was channeling black radical movements and Michael Jackson in 1993. These were displays of cultural power coming from specific places, with specific meanings. They were rooted in history, but obviously spoke to the present.
The Times said: "The halftime show was there to serve her, not the other way around."
But not everyone was awed. Sitting down with former New York Mayor Rudy Giuliani, one host on Fox & Friends complained that "Beyoncé got a police escort there, and then she gives a salute to the black lives matter movement?" Giuliani said he thought it was outrageous and ridiculous, then said of the halftime show: "I don't know what the heck it was––a bunch of people bouncing around and doing strange things?"
Why do we even have a halftime show, Giuliani mused.  Another host replied, "You gotta do something at halftime."
For those bored by the halftime show, unhappy with the commercials, and unenthused with the game, NPR offered a more cerebral experience: It tweeted the entire Super Bowl, in haiku. Here's a sample:
Von Miller, once more,
knocks the ball from Newton's hand.
First and goal, Denver.#SuperBowlHaiku

— NPR (@NPR) February 8, 2016
O, second chances!
Thy face is the yellow flag.
First and ten, again.#SuperBowlHaiku

— NPR (@NPR) February 8, 2016
And there to take photos of it all, in a photographer's vest he complained was too small, was NBA star (and amateur photographer?) Kevin Durant.
We want to hear what you think about this article. Submit a letter to the editor or write to letters@theatlantic.com.