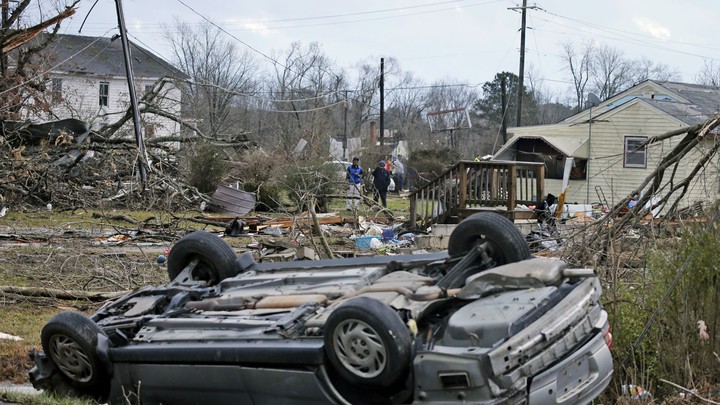 A storm system that spun off deadly tornadoes and killed three people in the South, moved up the East Coast and by Thursday morning left four more people dead.
In a small town of 2,000, set in the peanut-growing fields of Waverly, Virginia, a tornado carved a more than five-mile path. By the afternoon on Wednesday, winds had reached 60 mph and tore down several buildings. Two men, ages 50 and 26, as well as a 2-year-old chid, were killed when the storm ripped them from their mobile home. Their bodies were found 300 yards away.
One man in the town, Timothy Williams, told the Associated Press that power lines exploded into a "big ball of  fire" and the tornado had picked a car "right off the ground, and put it right back on the ground."
To the northeast of Richmond, Virginia, in Appomattox County, a funnel from the storm killed another man in his home and injured seven others. As it continued north, it toppled homes, crushed cars, and by nightfall Virginia's governor had declared a state of emergency for the worst-hit areas.
The storm would leave dozens more injured in cities and towns across the state. By Thursday, rescuers were still pulling some people from the wreckage of their homes.
The storm would later bring quarter-sized hail and powerful rains and a tornado watch to states as far north as New Jersey.  CNN reported that it left more than 200,000 houses on the East Coast without power.
The death toll from the storms now stands at seven. It began in Louisiana and Mississippi on Tuesday, where tornados destroyed nearly half of the homes in a trailer park an hour outside of New Orleans. There, two people died. A 73-year-old-man was killed in Mississippi. Then, the storm swept east to Alabama and Florida, then headed north toward Virginia.
By Thursday, the severe winds had calmed. But a flood warning remained for some of the areas in the East Coast states that were hit worst.
We want to hear what you think about this article. Submit a letter to the editor or write to letters@theatlantic.com.