A Deadly Storm Hits Virginia
A storm that spun off tornadoes continued up the East Coast and has left a total of seven people dead.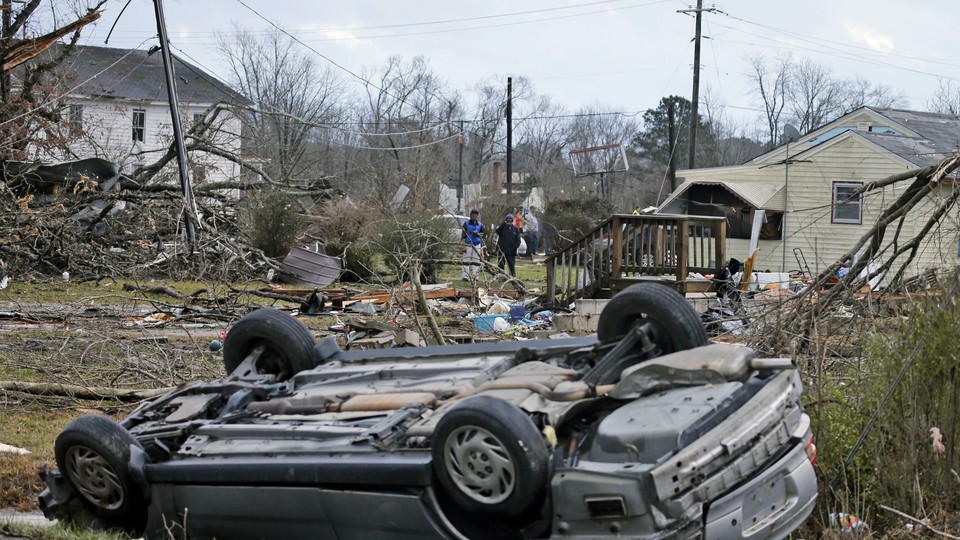 A storm system that spun off deadly tornadoes and killed three people in the South, moved up the East Coast and by Thursday morning left four more people dead.
In a small town of 2,000, set in the peanut-growing fields of Waverly, Virginia, a tornado carved a more than five-mile path. By the afternoon on Wednesday, winds had reached 60 mph and tore down several buildings. Two men, ages 50 and 26, as well as a 2-year-old chid, were killed when the storm ripped them from their mobile home. Their bodies were found 300 yards away.
To the northeast of Richmond, Virginia, in Appomattox County, a funnel from the storm killed another man in his home and injured seven others. As it continued north, it toppled homes, crushed cars, and by nightfall Virginia's governor had declared a state of emergency for the worst-hit areas.
The death toll from the storms now stands at seven. It began in Louisiana and Mississippi on Tuesday, where tornados destroyed nearly half of the homes in a trailer park an hour outside of New Orleans. There, two people died. A 73-year-old-man was killed in Mississippi. Then, the storm swept east to Alabama and Florida, then headed north toward Virginia.