The Pope of the Poor in Ciudad Juarez
Pope Francis visited Ciudad Juarez Wednesday, where his words focused on the plight of migrants.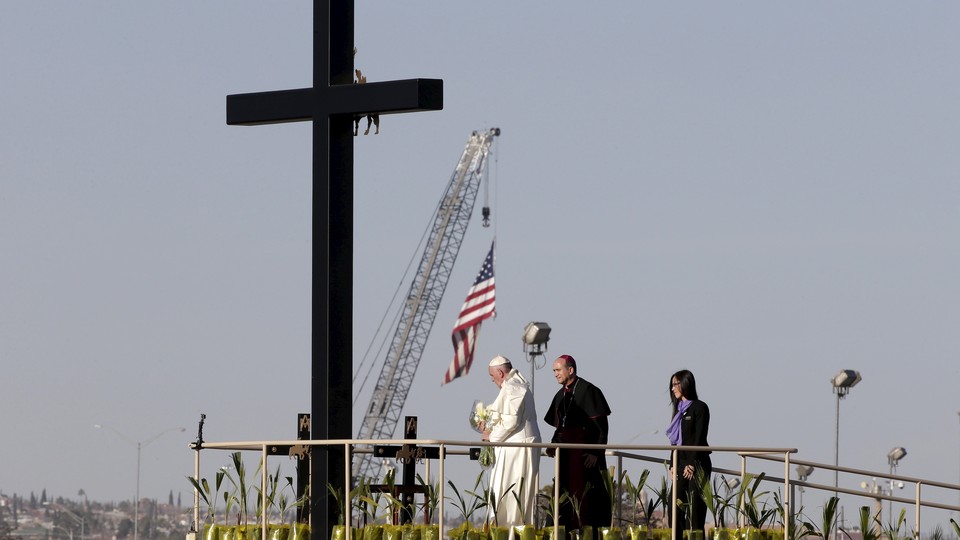 "We cannot deny the humanitarian crisis which in recent years has meant migration for thousands of people, whether by train or highway or on foot, crossing hundreds of kilometers through mountains, deserts and inhospitable zones," the pope said Wednesday. "The human tragedy that is forced migration is a global phenomenon today."
A year later, when he spoke to the U.S. Congress––the first reigning pope ever to do so––he said, "Let us seek for others the same possibilities which we seek for ourselves. Let us help others to grow, as we would like to be helped ourselves."
The pope himself is the son of immigrants; his father was an Italian bookkeeper in Buenos Aires, and at the White House in 2015, he talked of the immigrant roots of his family, then added, "I am happy to be a guest in this country, which was largely built by such families."
Juarez is one of Mexico's best representations of why people emigrate. From 1970 to 2000, its population tripled. Factories drew low-skilled workers from across the country on the promise of jobs and money.
Before he'd fly to Juarez, though, on Monday he stopped at the southernmost border, in the state of Chiapas, where, he spoke in the city of San Cristobal de las Casas, the epicenter of the 1994 Zapatista revolution. There, he told a crowd of mostly poor, indigenous people they'd been robbed by those "intoxicated by power, money and market trends."
His trip from the the southern edge of Mexico, all the way to the north, in Ciudad Juarez, was seen by many as symbolic, a representation of the journey that many migrants make as they trek toward the U.S. In the finale of his six days in Mexico, Francis stopped at a prison in Juarez, then at college he spoke with workers and business leaders. Talking to the group, he condemned excessive capitalism.
"God will hold the slave drivers of our days accountable, and we must do everything to make sure that these situations do not happen again," he said. "The flow of capital cannot decide the flow and life of people."
His last event in Mexico was a mass at the Ciudad Juarez Fairgrounds, where more than 200,000 people from both sides of the border listened. Speaking at the Mass, Francis said: "This crisis, which can be measured in numbers and statistics, we want instead to measure with names, stories, families.  They are the brothers and sisters of those expelled by poverty and violence, by drug trafficking and criminal organizations."
The pope also paid tribute to migrant-rights activists, calling them "prophets of mercy" and the "beating heart and the accompanying feet of the Church that opens its arms and sustains."