Our Newest National Monument, From the Air
Editor's Note:
This article previously appeared in a different format as part of The Atlantic's Notes section, retired in 2021.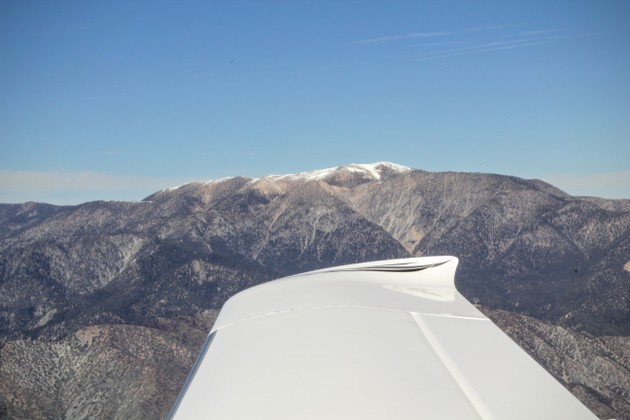 In our American Futures section, I've just described President Obama's creation today of three new National Monuments. You can read the full details there. I'm adding a note here to tie it to the ongoing saga of aerial depictions of our nation.
My wife Deb took this photo out the right window of our little propeller airplane. It was on Valentine's Day 2015, one year ago this week, as we traveled from Ajo, Arizona, to San Bernardino, California, on a reporting trip.
The summit of Mount San Gorgonio, with a bare covering of snow during California's long drought, is just over 11,500 feet high. At the time, our plane was at 8,500 feet (though we could have been climbing to 10,500) and was about ten miles away from the peak. We were in the middle of the Banning Pass, with San Gorgonio and the San Bernardino mountains to the north and Mount San Jacinto to the south.
This pass can be turbulent, unpleasant, and even risky when the winds are strong. On those days, small-plane pilots avoid it and take a roundabout route via Palmdale and the (broader, less bumpy) Cajon Pass. But winds were smooth enough that day. The only real aviation challenge was the big, fat No Fly zone right over Palm Springs airport in the middle of the pass. Air Force One had just landed not long before we passed by; Obama was spending the night there, reportedly for a weekend round of golf.
***
And by purest serendipity, what you're seeing in this shot is the very same Mount San Gorgonio you see in the elegant airliner shot by reader Marco Pallotti, in the preceding note that Chris posted yesterday. This gives you an idea of how much higher airliners fly than little propeller planes — and also what the Banning Pass looks like from above. It's the gap you see between the foreground and background mountains in Pallotti's shot.