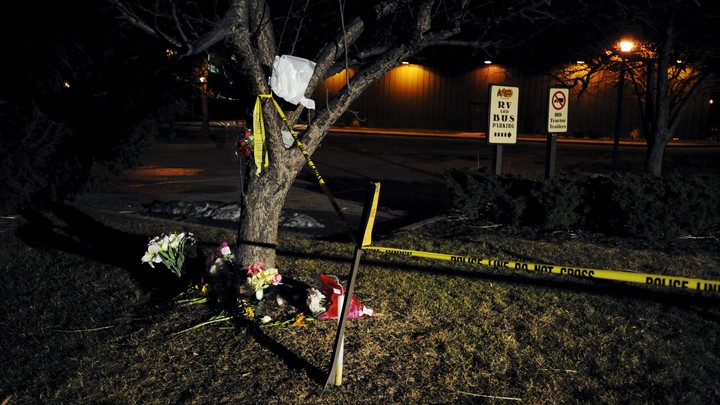 Updated on February 22 at 2:57 p.m. ET
The Uber driver who is accused of a shooting spree in Kalamazoo, Michigan, on Saturday night apparently chose his victims at random and may have picked up passengers in between killing six people.
The shootings, which occurred at three locations in Kalamazoo County, lasted about seven hours. The first victim was shot at an apartment complex at 5:42 p.m. on Saturday. State police said the gunman, whom they identified as Jason B. Dalton, 45, shot a woman in the parking lot, then drove away (the woman's name was not released). Four hours later, authorities said there was another shooting at a car dealership, where Tyler Smith, 17, and his father, Richard Smith, 53, were killed. About 15 minutes later, police said Dalton shot five woman as they waited in their cars outside a Cracker Barrel restaurant. Four of the women died. They were Mary Lou Nye, 62, Mary Jo Nye, 60, Dorothy Brown, 74, and Barbara Hawthorne, 68. A a 14-year-old girl who was in the passenger seat was in critical condition. The victims were apparently picked at random, and seem to have no connection to the accused shooter.
"How do you go and tell the families of these victims that they weren't targeted for any reason other than they were there to be a target?" said Jeff Getting, the Kalamazoo County prosecutor.
Police arrested Dalton at 12:40 a.m. on Sunday. He was still driving the dark-colored Chevrolet HHR that had been described by someone from the Cracker Barrel shooting. An officer spotted the car, and on Dalton they found a semi-automatic handgun, police said. Investigators were looking at Dalton's cellphone to understand what happened in those seven hours, but several people told media Dalton picked up passengers before, after, and during the killing spree.
One passenger, a man named Matt Mellen, said Dalton picked him up around 4:30 p.m.––an hour before the first shooting––but introduced himself as "Me-Me." Dalton had his dog in the back of the car, Mellen told WWMT, a local news station. Soon after he climbed in, he said, Dalton sped up to 80 mph.
"We were driving through medians, driving through the lawn, speeding along and when we came to a stop, I jumped out the car and ran away," Mellen told WWMT.
Mellen said he posted a warning to Facebook about the ride, and also called Uber to complain.
"He was surprisingly calm," Mellen said of Dalton. "I was freaking out."
Dalton's very last ride, just after midnight, was with a man who would only identify himself as Derek. The man told local station WOODTV that during the seven-minute ride to a hotel, he and his father-in-law brought up the news of the shootings.
"I kind of jokingly said to the driver, 'You're not the shooter, are you?,'" the man told WOODTV. "He gave me some sort of a 'no' response. I said, 'Are you sure?' And he said, 'No, I'm not, I'm just tired.' And we proceeded to have a pretty normal conversation after that."
Dalton reportedly has a wife and two children, and had previously worked for Progressive Insurance, which the company has confirmed. Police said he had no prior criminal record. He told one passenger he'd only recently begun working as an Uber driver. Dalton's neighbors said he was quiet, kind, shy, and liked to work on cars in his garage. They also said Dalton's house had been broken into, and it seemed to have shaken him. After the burglary, Dalton bought a guard dog and a gun, and "he periodically shot his gun out the back door," one neighbor told The New York Times. "He would shoot randomly into the air."
Dalton, who was charged with six counts of murder and two counts of attempted murder, was arraigned Monday. He was denied bail.
We want to hear what you think about this article. Submit a letter to the editor or write to letters@theatlantic.com.