Eleven Signs a City Will Succeed, Cont'd
Editor's Note:
This article previously appeared in a different format as part of The Atlantic's Notes section, retired in 2021.
In a sidebar item for his cover story this month, Jim outlines eleven indicators that a city is on the right track—a quiz of sorts:
Divisive national politics seem a distant concern.
You can pick out the local patriots.
"Public-private partnerships" are real.
People know the civic story.
They have a downtown.
They are near a research university.
They have, and care about, a community college.
They have unusual schools.
They make themselves open.
They have big plans.
They have craft breweries.
So the more you can answer "Yes" to those items, the better your city will fare. Already, many columnists around the country have assessed their own cities based on Jim's list. Here's Alan Stamm of Deadline Detroit, addressing #4:
Detroit is given [by Fallows] as an example of places that say "they are in the process of turning around." A civic story gives residents "a sense of how today's efforts are connected to what happened yesterday and what they hope for tomorrow." . . . .  TRUE. He makes the case.
And #10, on "big plans":
"When a mayor or city council member shows me a map of how new downtown residences will look when completed, or where the new greenway will go, I think: 'I'd like to come back.' " . . . . TRUE. "It's boom time for developments in heart of Detroit" -- The Detroit News, Jan. 8, 2016
Here's how Diana Nelson Jones of the Pittsburgh Post-Gazette addresses #4, the civic story:
We survived the post-industrial bust and we're strong again with the same grit, pluck and guts. A city of small towns. Where you can open your own gallery, make your dreams happen, branch out affordably from Brooklyn, San Francisco, and so on.
Her response to "big plans":
A slew of urban initiatives are emerging to contribute to a higher quality of life for all, from the city's "smart streets" plan to its initiative to switch the long-term value of subsidized housing vouchers into equity for home-ownership. It will be interesting to see how those play out.
[… Fallows] cited the City of Asylum Pittsburgh for having made a difference on the North Side since its founding in 2004 to house writers threatened in foreign countries. The visiting artists, poets and writers to City of Asylum have drawn regional and national audiences. So many of Pittsburgh's smaller plans are driven by artists and other creative people. They make a city vastly more interesting and buoy its sense of self and place.
Jeff Gauger of the Greensboro News & Record in North Carolina responds to #4 concisely: "Greensboro's civic story is changing, I believe, from 'woe is us' to 'the city that can get things done.'" And does the city have big plans?
Oh yes. Here are three: Megasite. Performing Arts Center. Say "Yes" to Education.
Evan Dawson of WXXI, an NPR member station in Rochester, New York, tackled the list out loud, joined by four guests: Paul Leone (executive director of New York State Brewers Association), Joe McBane (owner of Tap and Mallet brewpub), Michael Philipson (co-founder and CCO of Greentopia), and M. André Primus (founder and director of RocShare). You can listen here.
John Hamilton, mayor of Bloomington, Indiana, also ran through the list aloud, during his first State of the City address this week:
But when looking at a list by reporter James Fallows called "Eleven Signs a City Will Succeed," he said he thinks Bloomington is doing pretty well. He flashed one through 10 on the Powerpoint overhead. Among the qualifiers were: near a research university, a community college they care about and they have big plans.

It was number 11, though, that he saved for last: "They have craft 
breweries." "We're on the move with a year of action ahead," he said. "So I'll see you in the lobby now or in a craft brewery soon."
Two of the indicators on Fallows' list are the presence of a research university and, also, a well-regarded community college.  We are indeed fortunate to have the University of Dayton and Sinclair Community College as truly engaged civic partners.  The University of Dayton Research Institute employs nearly 450 full-time researchers, and last September was awarded a $99 million contract with the US Air Force to integrate new technologies.  Sinclair, with its newly opened UAS indoor training and testing facility – the first of its kind in the nation – is a recognized leader in the evolving drone technology field. These institutions play an important role in our transition to a more high-tech and research related economy.

In addition, Dayton prides itself on being an open community, another indicator of success on Fallows' list. Commissioner Matt Joseph, whose grandparents came from the nation of Lebanon and whose wife is from Bosnia, has long championed our efforts to be more welcoming to those from other cultures. He, also, played a major role in organizing last year's 20th anniversary of the historic Dayton Peace Accords, bringing international attention to our city.

Through our Welcome Dayton Initiative we are able to promote an open community that welcomes people with diverse cultural backgrounds and identities.  We are proud to celebrate the strength that comes from a diverse city.  And, I am proud to have performed the first same-sex marriage in Ohio on June 26th of last year.

Two additional signs of a successful city are the presence of a revitalized downtown and a community that has big plans. The strategic vision of the Greater Downtown Dayton Plan and the attention and resources we have dedicated to the region's central city are certainly in line with these indicators.

Investment in the greater downtown area since the Greater Downtown Dayton Plan was first introduced exceeds $427 million.

The Pop-Up project alone resulted in the opening of five new businesses in 2015.

The construction of new housing in downtown Dayton, like the construction of 17 new townhomes at Monument Walk and 24 new townhomes at the Brownstones on Second Street, is keeping developers busy trying to keep pace with the demand for more downtown living space.

Last year's launch of the Link Bike Share program, making it convenient to use a bike for short commutes downtown, was a great success. With 24 bike stations within a two mile radius of downtown, the program has registered more than 26,000 trips.

And, the expected completion this year of the RiverScape River Run project will bring an exciting new recreational venue to downtown.

The presence of craft breweries is another indicator on Fallows list, and he considers it the most reliable sign of a city's success.  Here, again, Dayton stacks up well. It's great to see our booming craft brewery scene attracting crowds, encouraging new business owners and developing into a fun, hip downtown entertainment draw. And, as with everything in Dayton, we have taken it one step further. It is not enough to have successful breweries like Toxic Brew and the Dayton Beer Company. We have gone from brewing beer to distilling stronger libations, and we congratulate Buckeye Vodka and the Belle of Dayton distillery on their success as well.
Are you a civic leader, newspaper columnist, or simply an engaged and informed citizen who wants to address those eleven questions for your city? Drop us an email at hello@theatlantic.com. And if you'd like to include a photo you've taken of some part of your city that represents it well, please do. Below is an example from my adopted hometown of Portland, Oregon (I don't have a real hometown or even home state because I was an Army brat who lived in about a dozen places growing up, but most of my family has settled down in Portland):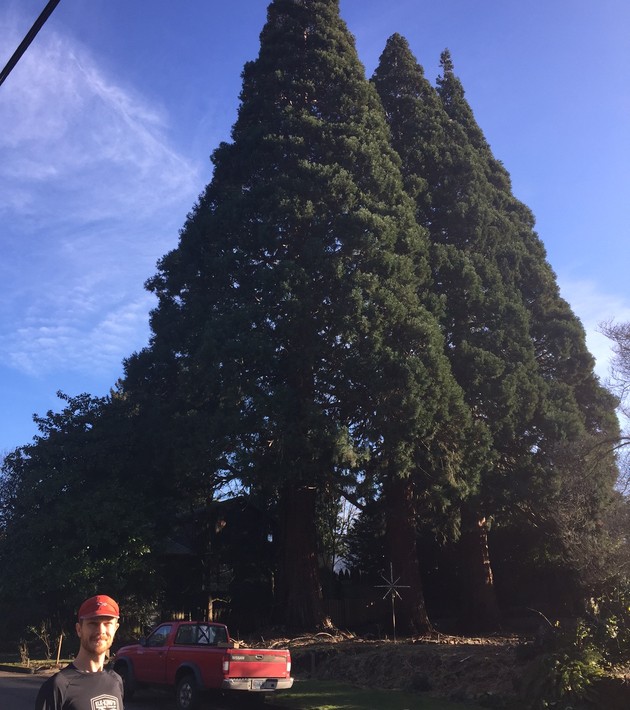 These three sequoias are just a stone's throw from my brother's new house on the border of the Woodstock and Eastmoreland neighborhoods, just down the street from Reed College. Strolling past the massive trees in late December with my brother (pictured above), I was astonished by their scale, even among the tall evergreens that strewn the city. This gives you a good idea:
My brother saw my reaction and told me the dramatic story behind the rare trees and how they were nearly cut down by a developer. Predictably, Portlanders came to the rescue. Here's a local news story from September with the concluding details:
The property owner on Friday said he signed a deal to protect three giant sequoias in Portland's Eastmoreland neighborhood that residents had been trying to save for months. Developer Ethan Beck stepped in to take over the property from owner Vic Remmers, with plans to build a smaller house there and keep the trees intact. The neighborhood group had raised over $550,000 but needed at least another $200,000 to purchase the property. […]

The activist who had been in the tree since Tuesday finally came down.
So very Portland:
But my favorite part of the story is that the guy who lives directly next to the trees is Arthur Bradford, who directed the Emmy-nominated documentary, 6 Days to Air: The Making of South Park. He persuaded Matt Stone, the show's co-creator, to donate a large sum of money at the end of the fundraising drive, likely saving the trees. As a life-long South Park obsessive, I think that's pretty sweet.